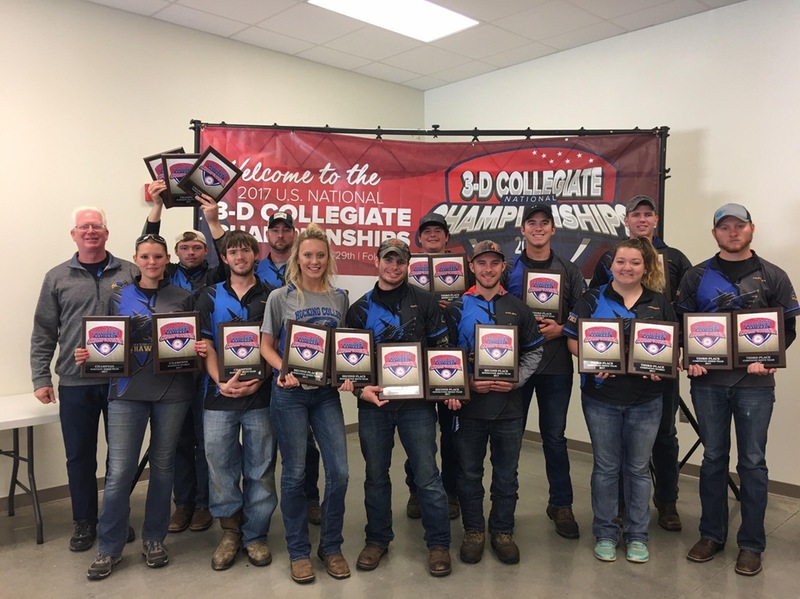 FOLEY, AL - The Hocking College Archery Team traveled to Foley, Alabama over the weekend to partake in the USA Archery 3D National Championships and they are coming home with their first ever Team National Title. Since inception of athletics at Hocking College the Archery Team has shone bright. Over the past two years they have brought home 10 Individual and Individual Team National Championships. This weekend they continued their success capturing the program's first ever overall Team National Championship.
This weekend the Hocking College Archery Team picked up right where they left off at the USCA 3D Nationals having major success, especially in the Barebow/Basic Bow Category. Dalton Philpot captured his second individual National Championship in as many competitions this season. Dalton was also apart of the Men's Barebow Team with Tristen Cahall and Donnie Russell that won the Gold Medal and Dalton and Caitlin Hartman combined for another National Championship in the Mixed Barebow Team Division.
Caitlin Hartman also paced the Hawks Women shooters winning the National Championship in the Women's Barebow Division and, as previously mentioned, combined to win the National Championship in the Mixed Barebow Team competiton with Dalton Philpot. Hartman was also a part of the Women's Compound Team along with Rebekah Matthews and Christina Dormire who won the National Championship.
Sean Cook and Christina Dormire brought home Silver Medals in the Men's Bowhunter and Women's Bowhunter competitions respectively. Cook and Dormire then combined to capture the Silver Medal in the Mixed Bowhunter Team competition. Sean Cook, James Childress, and Kaleb Mizener also brought home the Silver Medal in the Men's Bowhunter Team competition.
James Childress also podiumed in the individual Bowhunter competition bringing home the Bronze Medal in that category. Rebekah Matthews was also a Bronze Medalist in the Women's Compound Division and Matthews and Hunter Saylors teamed up in the Mixed Compund Team competition to bring home another Bronze Medal. The Men's Compound Team of Saylors, Hunter White and Cole Luburgh also captured a Bronze Medal to round out the Hawks weekend on top.
"I couldn't be more proud of our kids and how they performed this weekend", said Coach Steve Dietz. "We've been focused on staying calm and shooting under pressure and our kids did just that this weekend. All the hard work and dedication is really paying off for these young men and women. I'm excited to watch this group continue to grow and compete over the next several months, I'm excited for what the future holds."
Hocking College Archery will have a little bit of a break from national level competitions after this past weekend. The Hawks will return to action in the USCA Indoor Regionals at Madisonville, KY on January 26th through the 28th.