NELSONVILLE, Ohio—Two of Hocking College's long-serving horses rode off into the sunset last week to begin their retirement.
Josie and Marie, the college's two Percheron mares retired after about 25 years of helping students in the school's equine classes.
"They've been in all of our promotional material," Bethany Siehr, the Equine Science program manager for Hocking College, said. "They've been used for everything from team driving, riding, packing and giving massage and farrier students a rare opportunity to work on draft horses."
The sisters — or half-sisters, no one is quite sure how closely related they two are — were adopted by Cathe Blower and her family at their small farm between Athens and Amesville.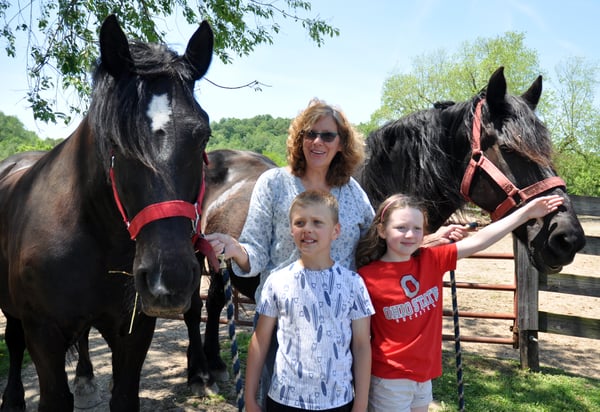 Cathe Blower and her children Wyatt and Laura stand between Josie and Marie, two Percheron mares who were recently retired from the Hocking College herd.
"They're doing well," Blower said after the pair had been in their new home for about a week. "They're still acclimating to the new environment."
Blower, a second-grade teacher at Amesville Elementary, said she's been riding horses her entire life.
"My grandparents had horses, and growing up, we'd ride them bareback," Blower said.
As she grew older, she kept riding, mainly going to friends' homes to ride with them. She eventually decided to take an introductory equine science class at Hocking College.
"Even though I'd ridden as a child, I wanted to be more independent," she explained. Around that time, she'd also gotten her first horse, a two-year-old colt named Whiskey.
As the years went on, Blower and her husband Mitch had three other horses aside from Whiskey, but for the past couple of years, after he'd died, they haven't had any.
Even though Josie and Marie were at Hocking College when Blower took her class about 16 years ago, she never got to work with them, but two of her friends she rides with, who'd also taken classes at Hocking, had.
"When they came up for adoption, my friends said 'You have to get them. You have to get them,'" Blower said with a laugh.
She's happy she listened, and so are her nine-and-a-half-year-old twins Wyatt and Laura.
"They're thrilled," Blower said of her children. "The twins feel like they're leading Josie and Marie around the pasture, they're so well trained. It's a great confidence builder for them."
For her part, Siehr said she's happy to have found such a great home for the horses.
"(Cathe) is going to give them a great retirement home, taking leisurely strolls around her property with her children," Siehr said. "It couldn't be a better fit for them."
Siehr added that Josie and Marie had been a "hallmark team" for the legacy of the equine programs "almost since their inception."
"They've been beloved by every student that has come through the program," she said.
Blower said Josie and Marie will still get to do some work in their retirement.
"We have a horse-drawn sleigh that came with the farm when we bought it," she said. "If we ever have enough snow, we might have them pull us in that."
But Blower said she's mainly just happy to be able to give the sisters a home.
"We're pleased to have Josie and Marie with us, and we're looking forward to having them for a long time," she said.
About the Equine Science Programs
Hocking College in Nelsonville, Ohio, offers four majors that involve horses: Wilderness Horsemanship, Equine Health and Complementary Therapies, Farrier Science, and the Equine Track of the Animal Assisted Therapy program.
Each of these majors is a two-year program that involves the interactive, hands-on learning of the skills necessary to succeed in their future careers.
Wilderness Horsemanship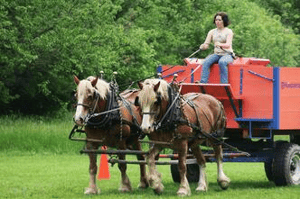 The Wilderness Horsemanship degree program was initially developed to teach students the skills needed for being a backcountry park ranger or wilderness guide. Students also learn how to drive wagons through various terrain, packhorses into the backcountry, teach basic riding skills, and properly use and repair riding equipment.
Farrier Science and Business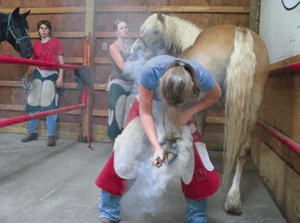 Hocking College offers one of the few farrier science associate degree programs in the United States. The program offers a unique combination of farrier skills and business management. Students learn the newest and safest techniques. They develop skills on gas forges and in shoeing performance horses and corrective shoeing.
As most farriers are self-employed, the business portion of the program provides students with basic skills like management and accounting and more advanced skills.
Equine Health and Complementary Therapies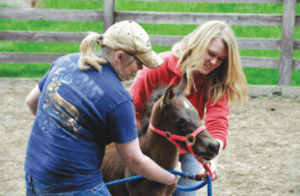 The Equine Health and Complementary Therapies program focuses on the health care component of the horse industry. Students develop skills in traditional health care such as nutrition, anatomy and physiology, broodmare and foal care, and non-traditional complementary therapies. Students gain valuable hands-on experience in their first semester by acting as a veterinarian assistant or by spending the night doing foal watch. Students also get hands-on experience in the newer disciplines of equine acupressure and massage.
Coupled with classes in equine business management, marketing and accounting, graduates of the program will gain the skills they'll need to start their own business.
Animal Assisted Therapy: Equine Track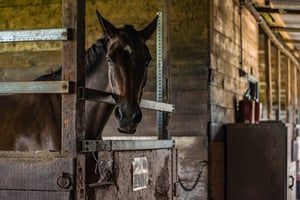 Hocking College's Animal Assisted Therapy (Equine Track) Program focuses on using horses as a tool for therapy purposes for humans. The program uses a combination of knowledge and skills such as horse care, riding instruction and aspects of specific therapies.
For more information on Hocking College's Equine Science programs, contact Program Manager Bethany Siehr by email at siehrb@hocking.edu or by phone at 740-753-6282.