Soon, Hocking College will begin offering a Data Analytics degree program.
What is Data Analytics?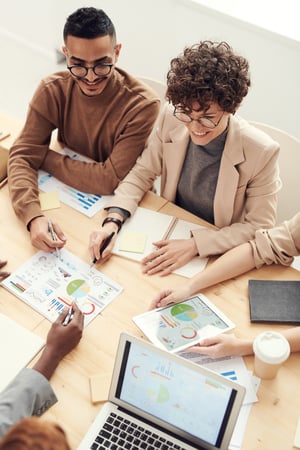 Professionals in the data analytics field are referred to by many titles, including market research analysts, data scientists, business intelligence analysts and operations research analysts. Their job is to analyze datasets to help businesses make more informed business decisions.
Their research uncovers benefits to businesses in the following manners:
Assist businesses in helping them identify their ideal customer.

Help businesses concentrate advertising campaigns on targeted audiences.

Guide companies toward providing better customer service.

Make suggestions on how companies can improve existing products.
What skills will you learn in this program?
Analytical Skills:Use a wide range of methods, such as forecasting, data mining and statistical analysis, to examine and interpret data. Determine the appropriate software packages and understand computer programming languages to design and develop new techniques and models.
Communication skills:Presenting data and conclusions to managers and other executives. Communicate technical information to people without a technical background.
Critical-thinking skills:Determine what information is relevant to their work. Evaluate the costs and benefits of alternative solutions before making a recommendation.
Interpersonal skills:Collaborate and work on teams. Convince managers and top executives to accept recommendations.
Problem-solving skills:Diagnose problems based on the information given to them by others. Analyze relevant information to solve the issues.
Writing skills:Write memos, reports and other documents explaining their findings and recommendations.
What about job prospects for data analytics?
According to the United States Bureau of Labor Statistics, the following figures reflect the most current earnings — and job prospects for — Operations Research Analysts:
2019 Median Pay: $84,810 per year and $40.78 per hour

Number of Jobs, 2019: 105,100

Job Outlook 2019-2029: 25%

Employment Change, 2019-2029: 26,100
In addition, students who graduate with a college degree in Data Analytics will be qualified to fill any of the following positions:
Business analyst

Corporate strategy analyst

Budget analyst

Web analytics

Fraud analytics

Social media data analyst

Machine learning analyst

Sports analyst
Why Choose Hocking College?
Located in Nelsonville, Ohio, Hocking College is a two-year technical college that offers students who want to enroll in Hocking College's Data Analytics program will experience the following advantages:
Hocking College is the only two-year college in Ohio that offers on-campus residential dormitories and meal plans.
Hocking College's smaller class sizes mean students will have more access to their instructors.
Hocking College has a long-standing reputation for providing graduates with the essential hands-on work experience they need to succeed in the workforce.
Students who enroll in the Data Analytics program will gain exposure to current technologies, software and platforms and learn about AWS Cloud Technology.
Graduates of the Data Analytics program who want to transfer to a four-year college can major in Business Analytics, Data Analytics or Sports Analytics, among others.
For more information about Hocking College's Data Analytics Program, contact Computer Science Program Manager Tasha Penwell by email at penwellt31810@hocking.edu or by phone at 740-753-7181.