The Bureau of Labor Statistics projects that the medical assistant field will grow 23 percent between 2014 and 2024, much more rapidly than the average line of work. There are several reasons for this.
First, the baby boomer population is aging and requiring more preventive services. This trend is expected to continue, creating a high demand for physicians. To accommodate the growth, physicians will need to employ more medical assistants capable of performing clinical tasks and routine duties to free up physicians for more advanced work.
Primary care is also steadily growing and is expected to continue doing so. Since most medical assistants work in a primary care setting, whether in clinics, group practices or other types of facilities, they will be increasingly needed for administrative and clinical duties.
In addition, it is difficult to tell where federal health insurance reform is going, but right now, more people have access to healthcare than they did in previous years. This creates a larger demand for medical professionals of all types, including medical assistants.
A Promising and Rewarding Career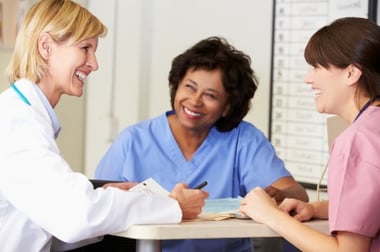 Over the next few years, the occupation will remain one of the fastest growing in the United States. Those who have leveraged the school's comprehensive two-year medical assistant program have made a very wise decision. About 90 to 95 percent of graduating Certified Medical Assistants from Hocking College find a job right away.
A wide range of support services are available to help students complete this challenging program with success—and the number show that graduates of the Hocking College Medical Assisting Program remain extremely pleased with their choice. A full 100 percent of them have expressed satisfaction with the program over the past five years, and so have 100 percent of the employers who hired them.
What a Medical Assistant Does
Medical assistants play an important role in healthcare facilities and settings worldwide. They support physicians and nurses by taking on administrative and clinical duties and tasks, freeing practitioners up to spend more time with patients.
They gather information and keep records. Medical assistants are often responsible for scheduling patients' appointments, documenting patient history and recording personal information. They are trained to keep all information confidential, only discussing it with medical professionals who are treating the patient in question.
The popularity of Electronic Health Records (EHRs) is moving an increasing number of patient records from paper to electronic. As a result, more and more medical assistants are now required to become skilled at using record-keeping software programs.
Medical assistants also collect much of the information that will go into patients' medical records, such as the patients' blood pressure readings, weight and medications.
Medical assistants make healthcare practitioners' jobs easier by performing some of the routine clinical tasks that a doctor or nurse would otherwise have to do. As directed by physicians, they give patients medications or injections, prepare blood samples for laboratory tests and assist doctors during patient examinations.
Key Skillsets a Medical Assistant Needs
Analytical – A medical assistant must have the ability to read, comprehend and follow patients' medical prognoses, charts and diagnoses and other data.

Interpersonal – A medical assistants often interacts with patients who may be upset or in pain, so a calm, professional demeanor is critical.

Technical – As a medical assistant gathers data, such as a patient's vital signs, he or she must be skilled at using the necessary instruments and tools, as well as computer software required for record keeping.

Coding – Administrative duties may include billing tasks, so a medical assistant needs to know how to code medical records.

Accuracy – Doctors, insurance companies and, of course, patients count on precision and accuracy in all records and vital information, so a medical assistant must be meticulous and detail oriented.

Communication

– Medical assistants need the ability to clearly communicate information to physicians and other personnel, both verbally and in writing.
How Can You Gain These Skills?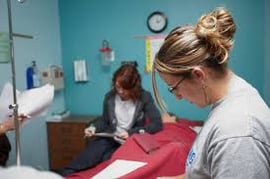 Hocking College will help you develop and the skills and knowledge you need to become a Certified Medical Assistant. The Associate of Applied Science in Medical Assistant degree program focuses on three key learning domains: cognitive (knowledge), psychomotor (skills) and affective (behavior).

This unique approach to education and training will help you hone your skills while developing the agility you'll need to be able to perform both clinical and administrative duties and a wide range of facility types. As the only allied health professional trained specifically to work in various settings, you'll leave this program fully equipped to work in a medical office, health clinic or other facility.
At Hocking College, You'll Learn to:
Gather information a doctor needs to facilitate an examination and assist with exams and minor surgeries
Measure patients' vital signs, conduct blood and urine tests and prepare treatments
Perform basic care, such as changing dressings or removing sutures
Prepare, process and manage transactions, coding, billing and insurance claims
Implement computer applications and equipment to help physicians diagnose and treat patients
Educate patients about treatments and procedures to ensure that they continue prescribed recommendations for self-care
Schedule appointments, keeping records and medical histories current and organized
Arrange to admit patients to hospitals or refer them to laboratories
Clean and sterilize medical equipment

As a medical assistant, you'll be key to making sure things run smoothly so treatment is effective and people get well. What's more fulfilling than that?

The sooner you begin this powerful two-year program, the sooner you'll launch your rewarding and exciting career. Hocking College will give you complete peace of mind, knowing you're fully prepared for immediate placement as a qualified medical professional. Apply today.