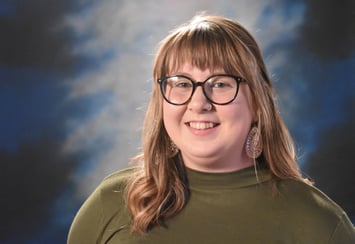 Hocking College student, Michele Porter, was recently named one of the 2019 Coca-Cola Leaders of Promise Scholars and will receive a $1,000 scholarship.
Currently enrolled in Hocking College's Addiction Counseling program, Porter is also President of the school's chapter of Phi Theta Kappa Honor Society.
The purpose of this scholarship program is to help new PTK members enrolled in associate degree programs pay for their educational expenses. Overall, more than 900 members applied for this award. Porter became one of only 207 students selected to receive this honor based on her scholastic achievements, history of community service and leadership potential.
In response, Porter stated she "was glad to see all my (her) hard work pay off."
Porter also wanted to express her appreciation to PTK advisors Danita Reynolds and Susan Dietz, Addiction Counseling Program Manager, Lori Baker and the members of Hocking College's TRiO program for the part each of them played in her success.
The Coca-Cola Scholars Foundation provides $200,000 in funding for the scholarships. In addition, $25,000 is set aside for members who are veterans or active members of the United States military. Also, the remaining amount is supported by donations to the Phi Theta Kappa Foundation. These funds provide seven Global Leaders of Promise Scholarships that are earmarked for international students.
The Coca-Cola Scholars Foundation utilizes their funds to encourage students to complete college and provides them with opportunities to both develop their leadership skills and assume leadership roles in their communities.
After Porter graduates from Hocking College, she plans to attend the University of Cincinnati and later pursue her master's degree at Ohio University.
About the Hocking College Phi Theta Kappa Honor Society
For over 100 years, the Phi Theta Kappa Honor Society has been providing students at two-year colleges with opportunities to earn scholarships, develop their leadership skills, and give back to their respective communities.
Founded on November 19th 1918, PTK is the world's largest organization specifically devoted to recognizing the achievements of honor students at two-year institutions. The society is made up of more than 3.5 million members from 1.300 chapters in 11 different nations.
Presently Hocking College's chapter of PTK is entitled Alpha Mu Delta. They meet weekly and encourage members to assume leadership roles both on and off campus.
According to Reynolds, Hocking College's chapter has also been instrumental in executing projects designed to bring awareness to issues such a homelessness.
One such project was last year's Project Homeless in which PTK members spent a night outside on the Hocking College campus sleeping in cardboard boxes. As a result, this project raised over $700.
Students who wish to join Phi Theta Kappa should be aware of the following conditions:
Membership to PTK is open to students on an invitation-only basis
Students must have completed at least 12 college credits
Students must have a GPA of 3.5
Students must pay a one-time only fee of $90. However, scholarships are available that can reduce this fee to $20.
Some of the advantages of becoming a PTK member include:

Members have access to a wealth of scholarship opportunities which in Ohio alone totals nearly $90,000
Members who decide to transfer to a four-year school have the opportunity to get financial discounts
Members can receive letters of recommendation
Members will have chances to develop and hone their leadership skills
Members association with PTK will be noted on their academic transcripts
Members can receive tutoring and mentoring opportunities
Members get to become part of a community of like-minded individuals dedicated to bettering themselves and their communities
For more information on Phi Theta Kappa or Hocking College's Alpha Mu Delta Chapter contact Danita Reynolds by email: glennd22689@hocking.edu or by phone: (740) 753-6445.