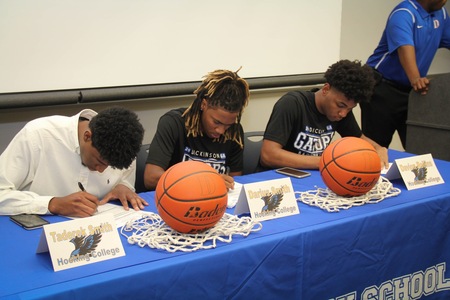 DICKINSON, TX--- Hocking College head men's basketball coach, Matt Williamson, is excited to announce the signing of the three newest members of the Hocking College Men's Basketball Program from the Houston area stand out program at Dickinson High School.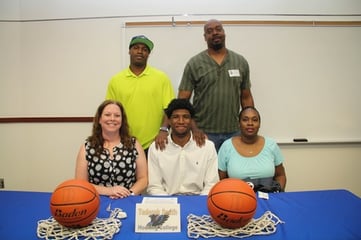 The trio of Darius Smith, Taderek Smith, and Davion Rollins signed their Letters of Intent to play for Hocking College in the 2017-2018 season today during the school's signing day. The trio were members of the back-to-back Division 24-6A District Champions that finished this season with a 27-9 record and Darius Smith and Taderek Smith both earned District 24-6A Honorable Mention Team selections.
"These guys come from a well established, winning program at Dickinson High School," Williamson said. "All three of these guys have competed at a high level and have been coached extremely well by Coach Wilson. We expect these guys to come in and compete right away because of their pedigree and toughness."