Beginning Fall 2019, Hocking College's Medical Lab Technician (MLT) and Medical Assisting Programs will be offering additional certifications.
In their second semester, MLT students will have the opportunity to sit for the NHA Certified Phlebotomy Technician (CPT) certification exam. Currently, the MLT Program is in the process of accreditation and once finalized, students who complete the MLT Program successfully will be able to sit for the MLT (ASCP) exam.
The Medical Assisting students will have the opportunity to sit for the CPT (NHA), CET (NHA), and CMA (AAMA) throughout the program.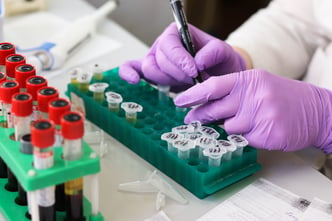 What is a CPT Certification?
A Certified Phlebotomy Technician (CPT) means that the holder can perform the following job duties in hospitals, diagnostic laboratories, and/or blood donor centers:
Draw blood from patients and donors
Evaluate patients' ability to withstand procedure
Explain blood-drawing procedure to patients and answer questions
Perform basic point of care testing, such as blood glucose levels
Prepare blood, urine, and other specimens for testing
Maintain medical equipment such as needles, test tubes, and blood vials
Verify patient/donor identity
What is a CET Certification?
As a Certified EKG Technician (CET), you'll be testing the electrical activity of the heart through small electrode patches attached to the body that help detect, prevent, and treat heart disease. EKG Technicians perform some, if not all, of the following job duties:
Set up and administer EKGs (electrocardiograms) and stress tests
Prepare patients for ambulatory monitoring
Edit and deliver final test results to physicians for analysis
Transcribe physicians' interpretations
Schedule appointments
What is a CMA Certification?
The holder of a CMA (AAMA) certification is a medical assistant who has been certified through the Certifying Board of the American Association of Medical Assistants (AAMA). Some of their primary duties are as follows:
Patient reception
Scheduling, coordinating, and monitoring appointments
Establishing, organizing, and maintaining patient medical records
Assisting with minor office surgery
Drawing blood (phlebotomy)
Measuring vital signs
Administer injections
Perform EKG
What Can You Tell Me About Hocking College's MLT Program?
Hocking College's Medical Lab Technician (MLT) Program will provide students with the skills they need to collect samples and perform tests to analyze bodily fluids and other substances. Students will also have the opportunity to participate in practicums at local hospital laboratories.
The ASCP Board of Certification is the standard for certification for medical laboratory professionals. Some states require additional licensure, including California, Florida, Georgia, Hawaii, Louisiana, Montana, Nevada, New York, North Dakota, Rhode Island, Tennessee, West Virginia, and the territory of Puerto Rico.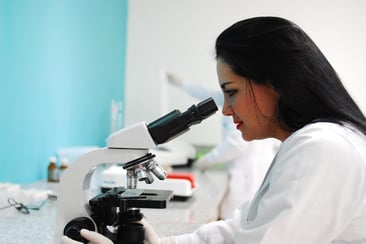 Most MLT students apply for certification through the American Society Clinical Pathologists (ASCP) Board of Certification (BOC). The most common route is via education which requires an associates degree or at least 60 semester hours (90 quarter hours) of academic credit from a college/university accredited by a recognized regional or national accreditation program. Hocking College is currently seeking NAACLS accreditation.
What Are Some Job Duties MLTs Would Perform?
Qualified MLTs perform the following job duties :
Set up microbiology cultures to look for and identify bacteria
Perform chemistry tests such as sodium, potassium, glucose, etc.
Look under a microscope to differentiate the various type of white blood cells, red blood cells, platelets, urine sediment, bacteria and various other elements
Perform blood typing and determine if units of blood are suitable for transfusions
Analyze urine for abnormalities with chemical tests and microscopic tests
Perform phlebotomy
Perform serological testing, quality control, calibrations, and maintenance
Perform numerous automated tests on analyzers within each department

---
For more information on Hocking College's MLT or Medical Assisting Programs, contact the Program Manager, Kimberly Ephlin, by email at ephlink@hocking.edu or by phone at (740) 380-9315 (extension 6602).