CIRCLEVILLE, Ohio—The Hocking College men's basketball team finished its best season in school history but fell in the NJCAA Region XII championship game to Columbus State Community College 95-58 on Sunday, Feb. 23 at Ohio Christian University.
The Hawks had defeated Owens Community College 95-89 in the semifinal on Saturday.
The Hawks played Columbus State for the third time this season and the second time in four days after ending the regular season at home with a 92-79 loss to the Cougars. The Cougars opened the championship game on a 22-6 and led all the way to the Region Xll championship. At halftime, Columbus State led 48-29.
Columbus State was led by Elijah Bishop who led all players with 25 points on 11-for-17 shooting while grabbing a team-high 10 rebounds. He also smacked down three blocks. N'Keeley Elmore scored 20 points and dished out a game-high six assists. Shawn Hawkins tallied 12 points, seven boards and five assists while Corey Baker added 10 points.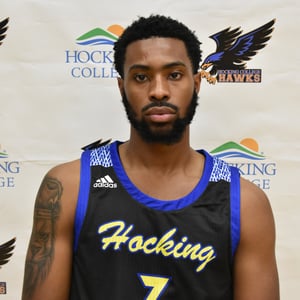 Hocking was led by sophomore guard Donovan Saine and freshman point guard Landon Sprigler who each scored 11 points. Saine went 4-of-9 from the field, with five rebounds. Sprigler went 4-of-8 from the field with four rebounds, an assist and three steals. Sophomore forward Elias Revelle recorded a double-double with 10 points and a game-high 12 rebounds. He also added two assists and a block.
Hocking suffered a poor shooting game, connecting on 21-of-71 (29.6%) from the field and 5-of-28 (17.9%) from three in the loss. Hocking grabbed 44 rebounds, handed out nine assists and had 22 turnovers.
Columbus State led for all 40 minutes with their largest lead coming at 3:07 left in the game when they went up by 41. The Cougars shot 42-of-76 (55.3%) and went 4-of-13 (30.8) from deep. They grabbed 46 rebounds, handed out 22 assists and only had 15 turnovers.
During the semifinal game against Owens, the first half went back and forth, with no team grabbing a lead of more than four points. Owens led 47-45 at the break. Hocking shot 52.9% on 18-of-34 shooting in the first half, with four 3-pointers while Owens shot 58.8% on 20-of-34 from the floor with six 3-pointers.
In the second half, Owens opened the half with a 6-0 scoring run to extend its lead to 53-45, just 90 seconds into the second stanza. Hocking responded by going on a 10-2 run to tie the game at 55 with 16:28 left in the second half. The game was tied at 78 with 5:34 left in the game before the Hawks went on an 8-0 run making to pull ahead 86-78, giving the Hawks their biggest lead of the game. Owens made a final run and cut the Hawks' lead to three points at 91-88, with 28 second left. Hocking knocked down four free-throws to seal the win and advance to the championship game.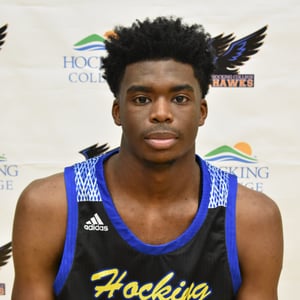 Hocking was paced by sophomore forward Elias Revelle, who scored a game-high 29 points on 10-of-13 (76.9%) shooting and converted 3-of-4 (75%) from deep. His 29 points tied for the eighth-highest single-game point total in the five years of Hocking College basketball. He added five rebounds, and an assist. Sophomore guard Donovan Saine recorded a double-double with 17 points and 10 rebounds, plus five assists and two steals.
There were 32 lead changes and nine ties in the game. The largest lead by either team was eight points. Hocking out-rebounded Owens, 49-26. Hocking's bench contributed 31 points compared to 15 for Owens.
By: Trevor Stephens for Hocking College Athletics