NELSONVILLE, Ohio — The Hocking College men's basketball team (16-12) took the game to double overtime before falling just short to the Sinclair Community College Tartan Pride (14-11) 102-100 Wednesday night, Feb. 12 in Nelsonville, Ohio.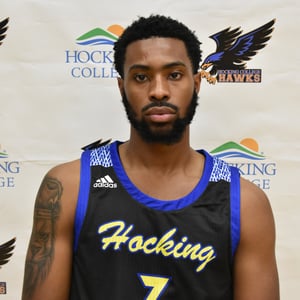 The Hawks had five different players score in double digits. Sophomore guard Donovan Saine and freshman guard Lemuel Holt led the team with 21 points apiece.
Saine shot 5-of-17 from the field and sank 10-of-14 from the foul line. He connected on both of his foul shots to tie the game late in the second half to send it into overtime. With less than a second left on the clock in the first overtime, he converted another pair of pressure free throws to tie the game sending it into double overtime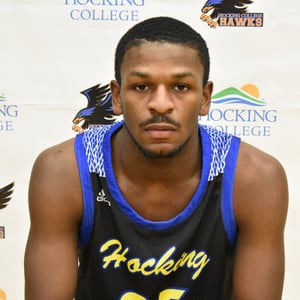 Holt scored 21 points off 10-of-16 shooting from the field, many on driving layups at the rim. He connected on 1-of-3 three-pointers. Holt added 19 of his 21 points after halftime, scoring nine of those points during the two overtime periods.
The Hawks out-rebounded Sinclair 50-42. Freshman forward/center D'Angelo Lake, sophomore forward Elias Revelle and Saine each grabbed eight rebounds, right behind them were Holt and freshman forward Shawn Paris Jr., who each collected seven rebounds.
Sinclair was led by guard Nate Ward, who finished the game shooting 10-of-20 from the field, adding 13-of-15 from the free-throw line. He ended the game with 34 points, four rebounds, three assists, three steals and a block, eventually fouling out during the second overtime period. Jack Hendricks scored 18 points for the Tartan Pride, while only shooting three-pointers the entire night. Hendricks finished the game making 6-of-9 shots from behind the arc.
The game marked a historic moment for Sinclair, as coach Jeff Price became the winningest coach in school history, notching his 306 career win at Sinclair.
Hocking will host its final home game of the season on Wednesday, Feb. 19, against Columbus State Community College in the Student Center. Tipoff is set for 7:30 p.m. and will be the last home game for our sophomore players.
By: Johnny Buck, Hocking College Athletics