NELSONVILLE, Ohio — The Hocking College men's basketball team (13-9) defeated the Rio Grande RedStorms' JV team (1-13) 91-55 on Sunday, Jan. 26, behind a strong performance from sophomore guard Donovan Saine.
The Hawks left with the win after an all-around performance from the team.
Tip-off came shortly after the news broke of the death of NBA legend Kobe Bryant. With heavy hearts, the men put on a show for the Hocking fans as they held the lead for the entire game.
Saine started the game with five points in the first half.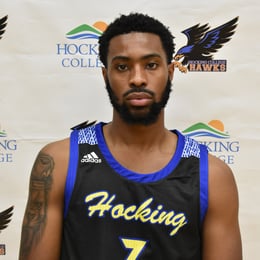 He exploded for 14 more in the second half, ending the game as the team's leading scorer. Draining jump shot after jump shot, he finished the game shooting 9-for-13 (.692) from the field and 19 total points. Saine also added seven rebounds to his stat line on the day, leading the team in both points and rebounds while earning Ohio Community College Athletic Conference, Division III player of the week honors.
Freshman forward Jeron Tinsley closely trailed Saine in points, scoring 15 while shooting 7-of-11 from the field.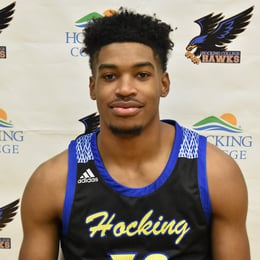 Tinsley snagged all three of his rebounds on the offensive end and mustered six of his points on put-back lay-ins. He added two assists and a block to his stat line. Offensively, there was just one rebound difference, with the Hawks edging Rio Grande 10 to 9. However, Hocking's 27 to 14 defensive rebound difference proved to help the Hawks with fastbreak scoring.
Hocking applied heavy pressure on the RedStorm, forcing 10 turnovers behind sophomore guard Tre Johnson's five steals. Johnson finished with five points, an assist, and a rebound.
For Rio Grande, Laffete Johnson kept the RedStorm in the game in the first half. Johnson's 16 first half points allowed the team to keep up with the Hawks, only trailing by 11 going into the second half. The Hawks, however, focused on Johnson, holding him to just five points in the second half. He finished the night with a game-high 21 points. He finished with a double-double, adding 12 rebounds on the day.
Rio Grande's second highest scorer was Shamon McDavis, who contributed 14 points, on 29.4% shooting, while grabbing seven rebounds of his own.
Up next for the hawks
The Hocking College men's team will travel to Clark State Community College (13-8), to take on the Eagles, Jan. 29. The Hawks' next home game will be a doubleheader with the women's team. Both teams will host the Lorain County Community College Commodores on Saturday, Feb. 1. The women's game will tip off at 1 p.m., followed by the men at approximately 3 p.m.
By: Johnny Buck, Hocking College Athletics.