Join the world-wide celebration of the stage Saturday, March 27 as we mark World Theatre Day.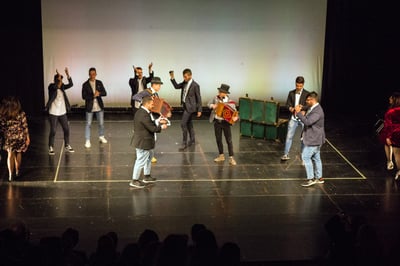 On World Theatre Day, everyone is encouraged to celebrate the art form of theater and recognize its capacity to both entertain and educate audiences across the globe.
World Theatre Day was created by The International Theatre Institute in 1961 and is observed annually on March 27.
The goals are:
Celebrate and promote theatre programs in schools and colleges

Motivate more people to see theatre as an instrument for both enlightenment and social change

Recognize and promote the accomplishments made by regional and professional theatre companies and communities

Encourage community members to support their local theatre groups
How can I observe World Theatre Day?
Join a local theatre company or club

Get active in that company or club

Encourage others to get involved with, or attend, local productions of plays or musicals

Post something on your social media pages that celebrates World Theatre Day

Read a play
For more information on World Theatre Day please visit the International Theatre Institute's website.
Are you interested in a career in theatre?
Beginning Autumn 2021, Hocking College's new Communications and Theatre Program can provide you with the education and resources you'll need to earn a two-year degree that can lead to a career in acting, directing, stage management and more!
What you'll learn in this program
Hocking College's theatre program emphasizes teamwork, organization, prioritizing tasks, communication, confidence-building, public speaking and presenting, problem-solving, making important decisions under pressure, responsibility and resilience.
In this program, students will cover:
Acting

Directing

Script analysis

Stagecraft

Stage management

Costume design

Lighting design

Make-up design

Playwriting

Scenic design
What job opportunities will this program prepare me for?
Students who graduate from Hocking College with an Associate of Arts in Communications and Theatre degree will be capable of stepping into the following industry-specific jobs:
Actor/Actress

Voice-over artist

Playwright

Screenwriter

Director

Make-up artist

Costume designer

Scenic designer

Lighting designer

Prop master

Stagehand

Stage manager

Front-of-house manager

Production assistant
Meet the Instructor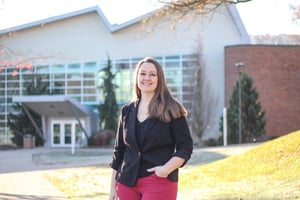 Emily Davis is the program manager for Hocking College's new Communications and Theatre Program. She holds a bachelor's degree in Independent Studies from Shawnee State University and a master's degree in Liberal Studies from Ohio Dominican University.
During her 26 years in the theatre, Davis has performed every task imaginable. She managed a youth theatre program in Columbus, and has worked as a professional actor, stage manager and director for a variety of theatres throughout Ohio.
Davis also has more than a decade of combined experience in theatre education as a teaching artist and professor. She has taught at Ohio State University, Ohio University Lancaster, Ohio Dominican University and for the Columbus Children's Theatre.
Did you know Hocking College has a Theatre Club?
In addition, Hocking College has a thriving Theatre Club!
The club meets every Wednesday at 4 p.m. in Oakley Hall, Room 304B. This group provides a safe space for students interested in creative writing, performing, directing, costume design and stage management aspects of theatre.
The Hocking College Theatre Club's most recent original production "Dream" won club member, Nadia Policoff, a Certificate of Merit at the Kennedy Center American College Theatre Festival 2021.
Click here to view "Dream" in its entirety watch the video below:
For more information on Hocking College's new Communications and Theatre Program and Theatre Club, please contact Program Manager Emily Davis by phone at 740-753-6137 or by email at davise37786@hocking.edu.