National Medical Laboratory Professionals Week 2021 runs April 18-24. During this time, the medical community recognizes the monumental contributions pathologists and laboratory professionals make to the healthcare industry.
This week is also an opportunity to help better educate the general public, and the medical community, about the vital role medical laboratory technicians, play in advancing patient care.
What is a Medical Lab Technician?
Medical laboratory technicians are the laboratory's generalists. They are typically trained in a two-year associate degree program at community colleges, hospitals, trade or vocational schools. They work under the supervision of pathologists or laboratory technologists and scientists.
What jobs do Medical Laboratory Technicians perform?
MLTs work behind the scenes in hospitals, private laboratories and office-based labs to perform tests that help physicians diagnose and treat their patients. The equipment MLTs use can range from microscopes to automatic analyzers and computers.
In addition, these healthcare professionals perform a variety of procedures. The following are a few examples of the duties and tests MLTs perform:
Conduct chemistry-based tests

Conduct blood typing tests

Perform cell counts and identification

Analyze urine for abnormalities

Identify bacteria in cultures

Observe safety precaution/ procedures

Practice quality control
Where do MLTs work?
Medical laboratory technicians primarily work in hospital labs or private or office laboratories. Most hospitals are open 24 hours a day, seven days a week. MLTs work a variety of shifts that can range from 8-12 hours a day. There is plenty of room in the field for advancement for individuals wishing to specialize in certain areas or continue their education.
How secure is the MLT profession?
The following figures are from the U.S. Bureau of Labor Statistics, and apply to clinical laboratory technologists and technicians:
In 2020, the medium pay for an MLT was $54,180 per year

The job outlook for the MLT profession from 2019-2029 will be up by 7%

The number of open MLT positions waiting to be filled between 2019-2029 is estimated to be 24,700
How can I become an MLT?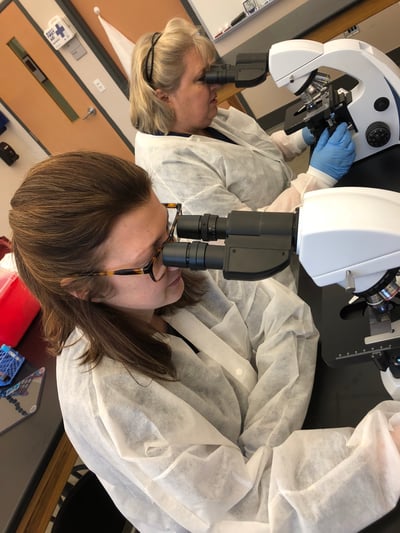 In order to become a medical laboratory technician, students must commit themselves to complete a two-year associate degree program. Afterward, they are eligible to be certified by the Board of Certification of the American Society for Clinical Pathology.
Where can I get the training I need to enter this field?
Students who enroll in Hocking College's Medical Lab Technician program can obtain their Associate of Applied Science in Laboratory Sciences in only four semesters.
The program provides students with the skills they need to collect samples and perform tests that analyze blood, body fluids and other substances.
Students have the opportunity to participate in practicums at local hospital laboratories.
Prospective students can contact MLT Program Manager Kimberly Ephlin, MHA/ED, MT(ASCP), RMA(AMT,) at one of the following: