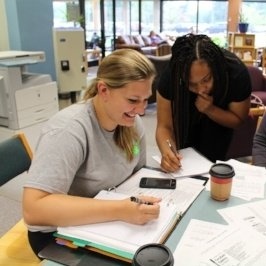 Looking for a study buddy? This year, all Hocking College students will have access to free online tutoring, courtesy of a partnership with the Ohio eTutoring Collaborative.
The Ohio eTutoring Collaborative is currently the largest free online educational tool of its kind in the U.S. and has 43 institutions participating in this project.
Other institutions that take advantage of eTutoringOnline services include Notre Dame College, Otterbein University, Marietta College, Kent State University, University of Akron and the University of Toledo.
What are the benefits of online tutoring?
There are three primary benefits for signing up for eTutoringOnline. These three benefits include:
After-Hours Support
eTutoringOnline is available beyond the typical on campus academic support centers' hours and for students who cannot make it to campus, meaning students can have tutoring sessions at their convenience -- not the other way around.
Personalized Tutoring
eTutoringOnline allows students to work with their tutor from the venue of their choice, making this a very personalized experience, despite it being virtual.
But just because it is virtual, also doesn't mean that you'll just be IMing someone back and forth. Live sessions take place via video conferencing software that utilizes a digital whiteboard, document-sharing, and instant messaging.
The eTutoringOnline software provides students access to tutoring that fits their needs.
Online Writing Lab
Students can submit drafts of papers they're working on to a tutor for the purpose of getting feedback within 24-48 hours.
Live Tutoring
Students will be able to have private one-on-one sessions with their tutor. The live tutoring sessions take place in a ZOOM room within the eTutoringOnline platform.
eQuestions Option
Students can pose a question to an eTutor regarding any of the specified subjects.
Variety of Course Offerings
HC students can take advantage of these online professional tutoring services that cover the following subjects:
Anatomy and Physiology
Astronomy
Chemistry
Math (Developmental Level-Calculus I)
Physics
Statistics
Writing
Hocking College's tutoring schedule can be found online on the Hocking College Academic Support webpage. eTutoringOnline sessions are indicated on each subject calendar (if available) by "(online)." The eTutoring portal link is included in the event's description.
How to Be Successful with Online Tutoring
eTutoringOnline makes it easy for students to be successful. All you'll need to get started is access to a computer with sound (both input and output) with a solid internet connection. And that's it -- the tutoring can be customized to fit your needs after that!
For more information about eTutoring options at Hocking College contact Jeffrey Graffius, Manager of Library Services, by email: graffiusj@hocking.edu or by phone: (740) 753-6338.