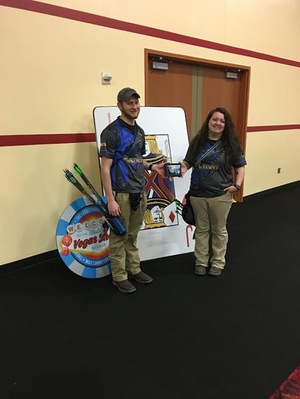 Las Vegas, NV -- Hocking College had a strong showing on the first day of the United States Collegiate Archery (USCA) Indoor National Championships as the Compound Team of Rebekah Matthews and Hunter Saylors topped the podium.
Matthews and Saylors were sensational en route to Hocking College's first ever National Championship. They entered the elimination round as the third seeded team and were matched up against the second seeded Compound Team from the University of the Cumberlands. Matthews and Saylors knocked off the Patriots' squad and advanced to take on the top seeded Bulldogs of Union College.
They put together another great round and downed the Bulldogs capping an amazing run to the National Championship.
"Hunter and Bekah are two of the hardest working archers and athletes that I have ever coached" said Hocking College Archery Head Coach, Steve Dietz. "They both put so much time and effort into studying the sport and preparing to become the best shooters possible. The mental toughness they demonstrated on Friday during the team competition was nothing short of amazing. I couldn't pick two more deserving athletes of this incredible honor."
Matthews and Saylors will join teammates Caitlin Hartman and Justin Hecker in individual competitions which will conclude Sunday evening.