North Ridgeville, Ohio—The Hocking College men's basketball team (D-III) avenged a season-opening loss to Bryant & Stratton (D-II) with an 83-79 come-from-behind victory in North Ridgeville, Ohio, on Sunday evening, Feb. 14. The win was the fourth in a row, giving the Hawks a 4-1 season mark, 2-1 in the OCCAC.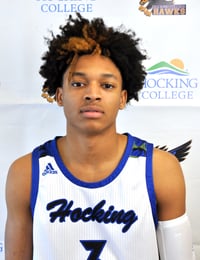 Sophomore guard Ryan Archey Jr. — making a case for OCCAC Men's Player of the Year — scored a game-high 30 points, one shy of his career-best single-game point total. Archey — last week's OCCAC Player of the Week —connected on 12-of-19 shots, including 4-of-9 three-pointers, and added nine rebounds for the Hawks.
Sophomore forward Jeron Tinsley tallied 17 points with 6-of-10 shooting accuracy and contributed six rebounds and four assists.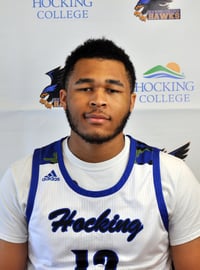 Freshman forward Simon Edwards led the team with 10 rebounds and also chipped in with four points. Sophomore point guard Landon Sprigler accounted for nine boards, five assists and six points.
The Hawks out-rebounded the taller Titans, 51-45 and shot 43% from the floor compared to 35% for the home team.
Once trailing by 16 points, the Hawks' defense spurred the comeback, with freshman forward Nicholas Lutz providing the defensive spark.
Hocking plays at Clark State at 7:3 p.m. on Wednesday night, Feb. 17. The Hocking College women's basketball team plays Clark State at 5:30 p.m.