The Hocking College Hawks' men's basketball team had a successful day at the Spartan Juco Jamboree in Elgin, IL, on Saturday, Oct. 12, putting together three wins in three games at the event that played host to 30 teams. Hocking defeated Lake County by 7, Truman by 18, and Elgin by 25.
This event is pivotal experience for players looking to move on to four-year schools, as there were 30-40 coaches of four-year schools in attendance.
Among Hocking's standouts were Landon Sprigler, Elias Revelle, Shawn Paris, Miekuann Knight, Jeron Tinsley, and Girvan Warren. This was an impressive start to the season for the Hawks.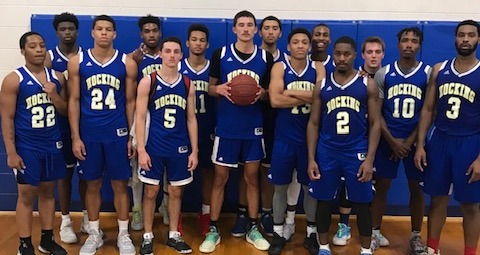 Pictured Left to Right: #22 Greg White, #35 Elias Revelle, #24 Trey Richmond, #33 Jeron Tinsley, #5 Landon Sprigler, #11 Qurriallace Tucker, #34 Shawn Paris Jr., #30 Isaiah Gambrell, #13 Ryan Archey Jr., #4 Girvan Warren, #2 Malik Weatherington, #15 Ben Hershberger, #10 Miekuann Knight, #3 Donovan Saine