SPRINGFIELD, Ohio—The Hocking College men's basketball team notched its fifth consecutive victory, a 75-62 road win over the Clark State Community College Eagles on Wednesday night, Feb. 17.
Clark State kept the game close throughout most of the game. Hocking held a slim lead at halftime, 34-32, and the teams traded the lead in much of the second half. But the Hawks' pulled away in the final minutes to secure the second win of the season against the Eagles.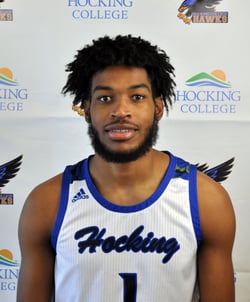 Sophomore forward Jeron Tinsley had a big game for the Hawks. He scored a game-high 26 points on 7-of-12 shooting. He also converted 11-of-17 free throws and added seven rebounds and three assists.
Freshman guard Xavier Johnson came off the bench to spark the Hawks with 22 points on 8-of-13 shooting and added four rebounds in 21 minutes of action.
Sophomore guard Ryan Archey Jr. had an off-night shooting but contributed nine points, six caroms and three assists.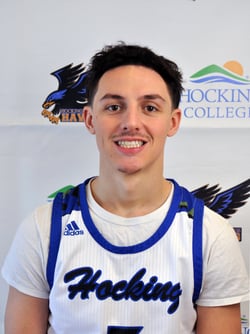 Sophomore point guard Landon Sprigler managed only six points but collected game-highs of 10 rebounds and nine assists.
The Hawks continued their fine rebounding, with a 48-40 advantage on the boards.
Hocking is now 5-1 overall this season; 3-1 in the OCCAC. The Hawks will host Kent State Tuscarawas at 1 p.m. this Saturday, Feb. 20, in the Hocking College Student Center.