Hocking College understands the changing landscape of the workforce. That's why we offer the Office Administrative Service Program, which prepares its students with highly marketable skills that meet the needs of today's increasingly online marketplace with an office administration degree.
It seems that telecommuting careers are the future of work. According to the Bureau of Labor Statistics, nearly a quarter of employed Americans did some or all of their work at home in 2015. Work-at-home service occupations, such as online customer service representatives, offer employees a unique opportunity to do meaningful work in the comfort of your own home.
What do Virtual Customer Service Representatives do?
Customer service representatives may carry out a wide selection of duties online, depending on their employer's needs.
Duties might include:
Taking calls via telephone, chat, email or video conferencing
Answering questions
Addressing complaints and concerns
Troubleshooting
Assisting with billing
Handling returns and exchanges
Selling additional products or services
Walking customers through programming and installation
Documenting customer accounts and interactions
Following up for quality assurance
How to Become a Virtual Customer Service Rep
You can receive quality training to become an online customer service representative by enrolling in Hocking College's Office Administration program. The program is Nationally Accredited by the Accreditation Council for Business Schools and Programs (ACBSP). Hocking College offers advanced, hands-on training to ready our students for administrative office positions that translate across industries.
The best virtual customer service reps are excellent communicators and able to resolve problems effectively to maintain customer satisfaction. That's why the Associate of Applied Business in Office Administration program offers courses that help students cultivate communication, information management, and organizational skills in order to address the unique needs of modern-day businesses.
Upon completion of this two-year degree program, students will be able to compete for work-at-home positions with a range of companies, like Amazon and Facebook, that are in need of professionals who can deliver first-rate customer service.
How Do Virtual Reps Differ From Traditional Reps?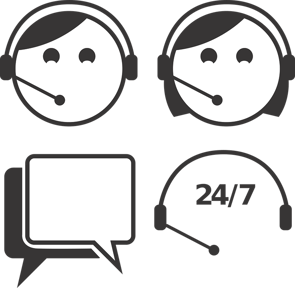 Typically, traditional customer service representatives work out of call centers. Today's virtual reps generally work from home. In addition, traditional reps may have been hired based on the amount of calls they could complete per hour. In other words, they were recruited for their efficiency. Customer service reps are currently hired for effectiveness.
Leading companies know that the only factor preventing a customer from jumping ship to their competitor is the overall experience they provide. Therefore, online customer service reps offer comprehensive knowledge about the company's products and services. However, they also deeply relate to customer's needs and strive to meet them.
What Are the Benefits of Being a Virtual Rep?
Telecommuting jobs feature a host of benefits. These include the following:
Less fuel. There's no need to spend money on gas or other transportation costs. This also helps you reduce your carbon footprint.
Fewer childcare expenses. Parents can eliminate or reduce the need for outsourced childcare by keeping the children in the home with them.
Flexible work environment. Telecommuting work can be carried out anywhere in the world as long as you have required equipment, such as wireless internet.
Greater productivity. Research shows that remote workers skip the unnecessary water-cooler chitchat, toxic coworkers and excessive meetings. As a result, they have more time to do their jobs and are more productive.
Greater employee engagement. Work-at-home employees are often more engaged with the company and more committed to upholding its values.
What's more, work-at-home jobs like virtual customer service reps are attractive to millennials, who desire a flexible and fun work environment, and these jobs give older employees the opportunity to remain in the workforce longer.
Are you excited to join the "workforce of the future" as a work-at-home employee? If a flexible career as a virtual customer service rep interests you, contact us at Hocking College to learn more about our Office Administration degree program.