If you've been feeling overworked and overstressed lately, according to a July 11, 2019 article on Glamour Magazine's website the potential cure for your ills could be a park prescription!
What is a park prescription?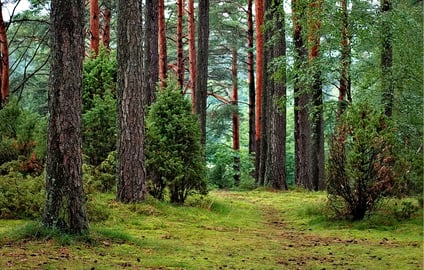 In her article "Park Prescriptions are Gaining Steam as a Mainstream Medical Treatment," author Cassidy Randall describes a park prescription as an alternative treatment method for anyone suffering from chronic stress.
Instead of being prescribed medications to deal with anxiety, doctors instruct their stressed out patients to spend more time outdoors. Preferably, the ideal outdoor destination the patient needs to seek out is a spacious wooded area such as a park or forest that has hiking trails.
Afterward, the prescription gets logged into the patient's medical records so their doctor can track their progress.
Patients are advised to start out by setting small easily reachable goals for themselves. A few of these goals would include walking/hiking no more than 3 times a week for no longer than a half hour.
What conditions and diseases can a park prescription treat?
Park prescriptions can be used to treat those who suffer from:
Anxiety
Chronic stress
Depression
Diabetes
Heart disease
High cholesterol
Hypertension
Insomnia
PTSD
A park prescription is said to benefit patients by lowering their blood pressure, heart rate, and stress levels while giving them a stronger immune system.
According to Randall's piece, Blue Cross Blue Shield of North Carolina has been rewarding doctors who prescribe park prescriptions to their patients with financial incentives. The motive behind this methodology is to encourage more doctors to both improve their patients' health while also lowering their overall health care costs.
According to Anne Loochten, dean of Allied Health and Public Safety, "While I have not had a 'park prescription' per se, on numerous occasions, my physician and I have discussed my love of hiking and being in a park. The woodier, the better! Luckily Ohio has thousands of places where we can 'park'! It is the best way I know to de-stress and it truly benefits people suffering from certain chronic ailments."
Where Can You Go Walking In SE Ohio?
Burr Oak State Park
|
10220 Burr Oak Lodge Road
Located in southeast Ohio, Burr Oak State Park boasts 2,593-acres of wooded hills. Burr Oak is also a resort park that offers overnight accommodations courtesy of its lodge, cottages and campground.
Wayne National Forest
|
13700 US Highway 33
Wayne National Forest is divided into three units that are managed by two Ranger District offices located in Nelsonville and Ironton, with a field office in Marietta.
The Forest features over 300 miles of trails for hiking, all-terrain vehicle riding, mountain biking, or horseback riding in season.
The trails are also open to ATVs, mountain bikes, and horseback riders from mid-April to mid-December each year.
Hocking Hills State Park
|
19852 State Rt 664 S.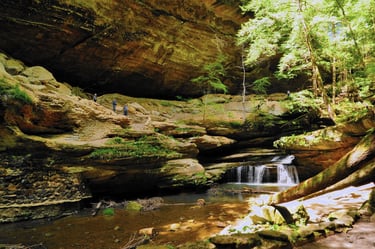 Hocking Hills State Park is open all year round and its trails are accessible from dusk till dawn. The following are 7 major hiking areas of Hocking Hills State Park that span an over 25-mile radius:
Ash Cave
Cedar Falls
Old Man's Cave
Conkle's Hollow Nature Preserve
Whispering Cave
Rock House
Cantwell Cliffs.
Zaleski State Forest
|
State Rt 278
Zaleski State Forest is the second-largest forest in Ohio's system of state forests. Their Backpack Trail offers visitors opportunities to learn some historic facts about the Zaleski area.
The main trail at the forest is 26 miles long. But, there are also 31 miles of bridle trails and a horse camp that offers 16 sites, latrines, picnic tables, fire rings, and hitching posts.
Are You Already an Outdoorsy Person?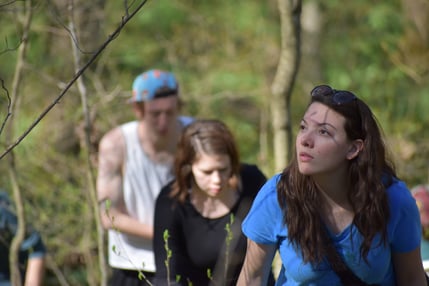 If you enjoy hiking and could see yourself leading nature walks and tours, check out Hocking College's Ecotourism and Adventure Leadership Program.
Students in Hocking College's Ecotourism and Adventure Leadership program will learn more about nature and ecological sciences and cover subjects ranging from interpretive/tour guide services and wilderness skills to hospitality tourism, and the lodging business.
This hands-on program is an ideal fit for students who love to travel, enjoy embracing other cultures, have a deep sense of appreciation for the environment and who aren't afraid of occasionally roughing it in the great outdoors.
For more information on this program contact Hocking College's Recreation Management Program Manager, Jennifer Johnson by email: johnsonj10298@hocking.edu or by phone: (740) 753-6279.