Hocking College's Website and Application Development program offers students more than just classroom experience as they learn to design, build and manage websites and applications.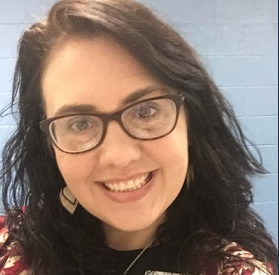 For more than a year, students have used Amazon Web Services Educate to learn the skills they'll need to join the high-demand industry.
"AWS Educate has different pathways built into it that lets students explore and learn about topics that interest them," Tasha Penwell, the Computer Science program manager at Hocking College, said.
Penwell, a certified AWS cloud practitioner and an AWS Educate Ambassador, uses the program to give her students high-quality training.
She weaves the AWS Educate badges into her classroom curriculum.
"The badges give the students something they can show potential employers to prove they have experience and training with certain items," she explained.
Last semester, she had her students earn the Alexa badge as part of an assignment.
"I've had students get excited about the badges and want to earn them all," she said with a laugh. Since the program is free and open to the students as long as they are enrolled at Hocking College, they can work at their own pace on extra badges Penwell doesn't assign.
Reaching out to the community
Using the college's designation as an AWS Academy and other certifications, Penwell has begun reaching out to local high schools to supplement their computer science programs.
"I grew up in a really rural area, and I didn't have a lot of experience with or exposure to computers," Penwell said. Coming out of high school, she didn't see it as a viable option. Now she's using her position and knowledge to help people in similar situations.
This summer, she spoke at two different virtual technology conferences: AWS Midwest Community Day and G-Tech.
Penwell is also a Microsoft Philanthropies Technology Education and Literacy in Schools volunteer. The program matches volunteers with high schools to help supplement the existing computer science programs they offer. Through that program, she's volunteered at Trimble High School, teaching students how to basic coding concepts and how to create apps.
She's also taught after school programs at Logan-Hocking Middle School.
"I was surprised at how many of them liked the actual coding more than the drag-and-drop style of design and development," Penwell said.
"One of the girls at Logan-Hocking told me the class was a dream come true," she said. "That's why I love doing this. It's exciting to help someone find something they love doing."
Penwell didn't see computer science as a career option for her until she was in her 30s. Now she's excited to share that passion with others at an earlier age, and she's looking for more high school teachers who'd be interested in offering AWS Educate to their students.
But it's not just children who Penwell wants to reach. She's begun to develop a series of certificate classes open to the public through Hocking College's Leisure Learning program. Some will be through AWS Academy, a program similar to AWS Educate, but geared toward the public instead of college and high school students. Hocking College is one of two AWS Academy member institutions in Ohio.
Anyone will be able to take the classes and learn or build on their technology skills. Prices and class structures are still being developed.
"There are so many opportunities in computer science, even in rural areas," Penwell explained. "With these new certificates and expanding our reach into local high schools, I hope I can provide other people the path I found later in life at an earlier age."
Where can I get the training I need to get into this field?
Hocking College in Nelsonville, Ohio, offers a data analytics program. In only two years, students can graduate with an Associate of Applied Science in Data Analytics degree. Students from Ohio who enroll in either college's Data Analytics or the Cybersecurity and Network Systems programs are eligible for a scholarship through the Choose Ohio First Program.
What skills will I learn in Website and Applications Development?
Students who enroll in Hocking College's Associate of Applied Science in Website and Application Development program will learn:
HTML/CSS

Java

JavaScript

How to constructs, modify, implement, query and maintain a database

How to analyze problems

How to implement the development cycle

Job search skills
More about Hocking College's AWS Educate Partnership
In 2018, Hocking College began to partner with AWS Educate. The partnership incorporates the AWS curriculum into the college's existing computer science program. Students earn certificates that ultimately are more marketable in the workforce. AWS Educate is a grant-oriented program for students, academic researchers and educators. Their mission is to "teach tomorrow's cloud workforce today." Their long-term goal is to make the education community more aware of Amazon's public cloud services.
For more information on Hocking College's Website and Application Development program, contact Hocking College Computer Science Program Manager Tasha Penwell at one of the following: