Hocking College offers students four equine programs to choose from and, in only four semesters, students can receive their Associate of Applied Science in one of the following categories:
This blog offers more information about Hocking College's Equine Health & Complementary Therapies program.
---
Hocking College's Equine Health & Complementary Therapies Program
Hocking's Equine Health & Complementary Therapies program focuses on animal husbandry and advanced care for horses. Primarily, this type of therapy is designed to help horses in different stages of their psychological development, including young horses, show horses and geriatric horses, to those used for breeding purposes.
Equine massage therapy is an expanding field that was developed in the 1990's. The techniques taught in this program were inspired by those used on human athletes and have been altered and modified to be properly applied on horses.
Further training and certification is available for those who want to professionally massage horses at training barns and sport horse facilities through current professionals and organizations such as Equissage International.
This program also offers specialized classes in the following skills:
Equine anatomy and physiology
Equine massage and acupressure
Breeding and foaling management
Program graduates can seek employment at the following establishments: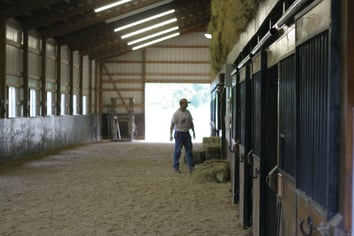 A boarding or training-related facility
A horse breeding or mare/foal care facility
Farms and stables
Veterinary clinics
What Skills Will I Learn From The Program?
Students in the program will learn the following:
Theoretical knowledge and hands-on experience in equine anatomy and physiology.
Massage and acupressure techniques.
Health care and management practices for horses during different stages of their physiological development.
Breeding and reproduction of stallions and mares, green horse handling, and training.
How to care for mares and foals during various stages of pregnancy, as well as post-parturition care.
For more information on Hocking College's Equine Programs, contact Equine Science Program Manager,
Bethany Siehr
, by email at
siehrb@hocking.edu
or by phone at
(740) 753-6282.