As schools and businesses around the country close in response to the new coronavirus pandemic, we put together a list or resources to help.
Internet and phone connections
The FCC introduced a new measure Friday, March 13 to help prevent potential abuses by telecommunications providers during the ongoing pandemic. The Keep Americans Connected Pledge lasts for the next 60 days and asks companies to not end service for residential or small business customers, to waive late fees caused by the economic effects of the virus and to open access to public Wi-Fi hotspots.
Spectrum's parent company Charter announced that starting Monday, they will offer free Spectrum broadband and wi-fi for 60 days to households with K-12 and/or college students.
To sign up, call 1-844-488-8395. Spectrum serves all of southwest Ohio.
Comcast has announced that new qualifying low-income customers will receive 60 days of free services when they subscribe to the company's Internet Essentials program. Internet Essentials is a service tier only available to qualifying low-income families. The company is also increasing internet speed for all customers in the tier.
To sign up, call 1-855-846-8376 or visit Comcast's website.
If you're having trouble getting high speed internet through a traditional internet service provider, you could try using a mobile carrier. Mint Mobile, a prepaid service, allows customers to bring their unlocked device to the network and pay an introductory price as low as $15 a month for three gigabytes of data. You can find out more information about how the service works and which devices are compatible on their website.
Self-storage
Uhaul is offering 30 days of free storage to college students in the U.S. and Canada. The free month only applies to college students with a college ID and they cannot already have a storage unit with the company.
Financial resources
Unemployment insurance: Ohio Job and Family Services can't say if you qualify for unemployment insurance, but if you're out of work because your employer has closed due to the new coronavirus they suggest applying for the benefits. If you don't qualify you'll be notified. If you are eligible, an executive order issued by Gov. Mike DeWine has waived the waiting period for eligible Ohioans to receive unemployment benefits. To apply, visit the Ohio Job and Family Services Unemployment Insurance website, or call 1-877-644-6562 Monday through Friday from 8 a.m.-5 p.m.
The U.S Department of Education has put together an FAQ page about how Federal Student Aid could be impacted by the new coronavirus. Please check out their website for more in formation.
Where to find information about the virus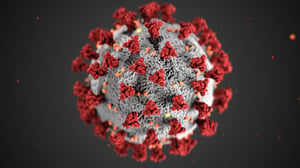 In general, trust information from reputable sources like the Centers for Disease Control, the World Health Organization and state and local public health departments. What you read on social media isn't always true.
If you have questions about COVID-19, call the Ohio Department of Health hotline at 1-833-427-5634.
For more information check out the pages from ODH, CDC and WHO.
CDC has also developed fact sheets with basic facts about the virus.
Athens County information
The Athens County Public Library system is closed until at least April 5, 2020. During the closure, free wifi will be available in the parking lots of all branches. The public hotspots in New Marshfield and Amesville are also active. Due dates for items currently checked out will be extended until the closure ends. For more information visit the library's website or your local library's website.
Athen's County Sheriff's Office: The Athens County Sheriff's Office is currently close to the public. To file a report, call 740-593-6633 and select the appropriate option. For the immediate future, the sheriff's office encourages non-emergency reports to be filed over the phone. The office will continue to respond to all emergency calls as normal.
The sheriff's office will not be processing background checks or concealed carry applications until further notice. If you have further questions regarding the administrative processes of the Sheriff's Office, please contact Brynne Morris at 740-566-4300 or bmorris@athenssheriff.com.
Academic resources for Hocking College students
While the Academic Success Center and the Hocking College Library are closed until further notice, students can still receive help online.
Tutoring and advising with peer tutors, the Accessibility Resources staff, the Librarian and the Educational Specialists will continue online by appointment via Zoom and Blackboard Collaborate. Access the tutoring schedule and instructions for meeting your tutors at www.hocking.edu/academic-support.
Students are also encouraged to sign up for our secondary tutoring service, the Ohio eTutoring Collaborative. After making an account, students can use the free service in three ways:
The Writing Lab allows you to submit a draft of your paper to a tutor, ask for specific feedback, and receive a tutor's response within 24-48 hours.
Live Tutoring via Zoom allows you to meet with a tutor in one-on-one tutoring sessions via a fully-interactive, virtual online environment. Live sessions are offered in the subjects listed on the schedule.
eQuestions allows you to leave a specific question for an eTutor, who will respond within 48 hours. eQuestions may be submitted for any of the subject areas covered.
Some of the many subjects covered are anatomy and physiology, math, chemistry, and statistics. Students can make an account by clicking this link and following the instructions. To view the current Ohio eTutoring Collaborative schedule, please click here.
Resources for Hocking College instructors
The library also has many e-resources available to assist instructors during this time.
Faculty can search for free Open Educational Resources via EBSCO. Further, as a member of the OhioLINK consortia, Hocking College Library has access to resources like the Electronic Book Center, with more than 100,000 books, and the OhioLINK Open Ed Collaborative, with suggested course content and curricula. You can explore all of the OhioLINK e-resources by clicking this link. Please reach out to Allison Nowak at nowaka@hocking.edu for any problems in accessing the library's e-resources.
Cengage is also offering support to higher education institutions effected by the COVID-19 pandemic — including offering free access to all of their digital platforms and 14,000 ebooks. Resources for faculty, students and institutions. can be found here.
Educational Resources
If you have children at home there are some quality learning resources available online.
A public school teacher in Ohio has created a public Facebook group where parents and teachers can exchange ideas for teaching at students at home and seek help from one another.
The Ohio Department of Health has also compiled a list of resources for families and students in kindergarten through high school.
Scholastic offers cross-curricular lessons for pre-kindergarten through middle school students.
For high school students, Crash Course on YouTube offers video series on subjects ranging from ecology to media literacy to world history to literature and more.
Combating boredom
Whether you have small children or not, social distancing could leave you with time to kill. We've assembled a list museums you can tour from the comfort of your own home.
Virtual tours of other museums can be found through Google Arts and Culture and Google Street View museum tours. Google also provides tours of cultural and heritage sites from around the world.
If you have additional resources you'd like to see listed here email them to berrym36617@hocking.edu. This post will be updated as more resources are submitted.