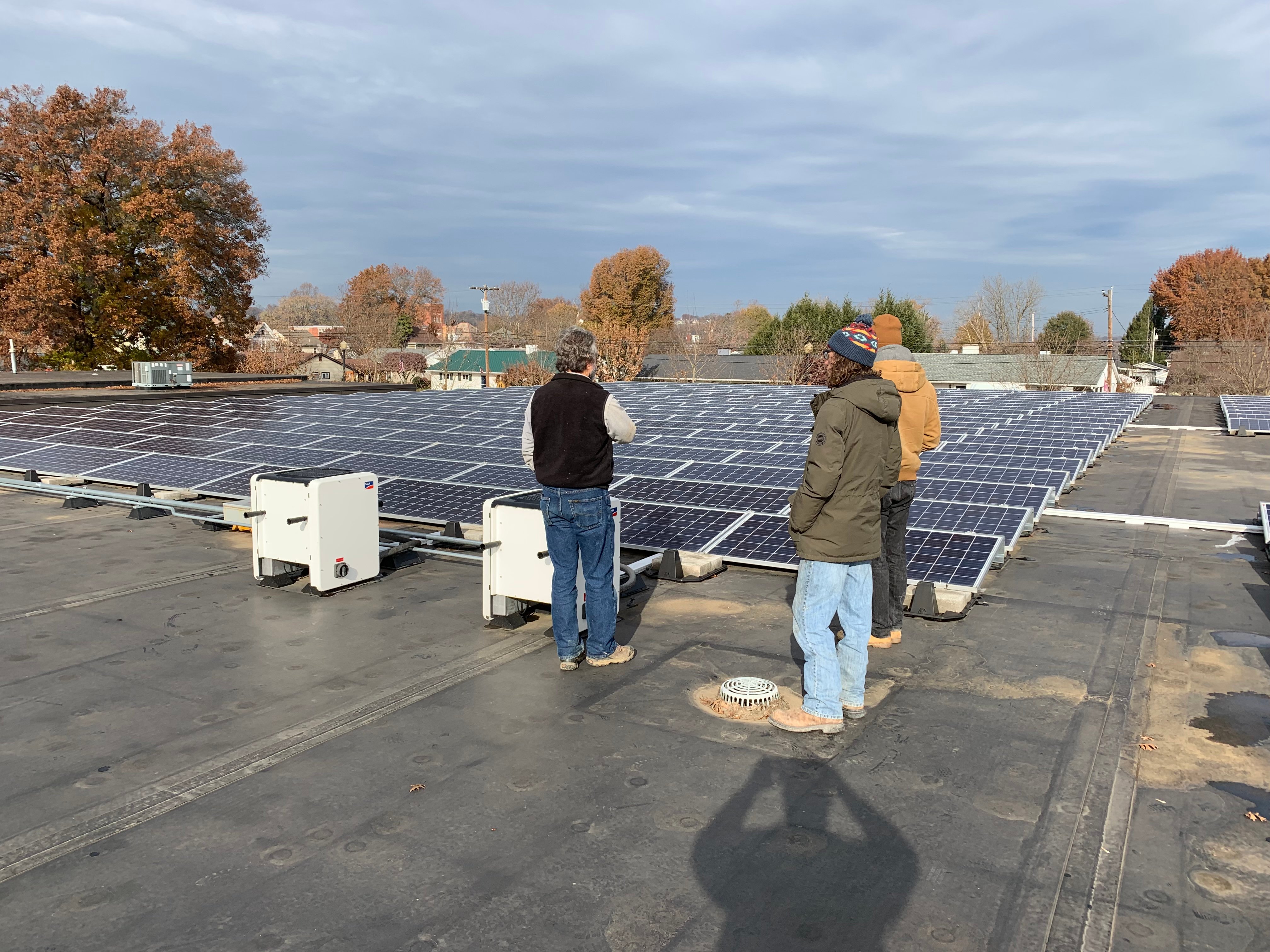 On November 21, students in Hocking College's Advanced Energy program visited Williamstown High School and met a representative from Pickering Energy Solutions.
During their visit to WHS, the students surveyed the largest solar panel system in the area located on the roof of the school. Commissioned in the summer of 2018, the system uses 386 solar panels to generate 132 kW of power. Overall, this solar system provides close to 13% of the total power that the building uses in an average year.
The students also got to meet Charles L. "Chip" Pickering. Pickering is the founder of Pickering Energy Solutions, a WV company which installs, owns and maintains solar photovoltaic power systems within the Mid-Ohio Valley.
Pickering Energy Solutions ongoing mission is to encourage, develop and facilitate the use of solar and other forms of renewable energy.
PES also partnered with Wood County Schools to get the system at Williamstown High School up and operational.
Afterwards, the students visited Pickering's home/office which serves as an example of a LEED-certified house. By definition, LEED is an acronym for Leadership in Energy and Environmental Design. This is a certification program that promotes green-oriented constructions methods. LEED-certified houses are designed to be flexible and promote saving energy, water efficiency and the reduction of CO2 emissions.
According to Program Manager, Adam Fowler, the goal of this field trip was to for students to get their hands on solar, see how solar panels look, work and can be easily installed.
Hocking College's Advanced Energy Program provides students with the skills necessary to enter a career in the growing field of Photovoltaic (PV) installation in 2 years.
This program gives students the opportunity to learn and mentor under professionals who can introduce students to seasoned professionals in the Advanced Energy field.
In the Advanced Energy program, students will learn about the following:
PV system audit and design techniques
PV system installation techniques
Other types of renewable energy
Energy storage
Electrical trade skills
Roofing and framing skills
According to Program Manager, Adam Fowler, future trips for his students include trips to Blue Rock Station, Federal Hocking School and designing a solar panel system for Hocking College.
For more information on Hocking College's Advanced Energy Program contact the Program Manager, Adam Fowler, by email at fowlera182890@hocking.edu or by phone at (740) 753-6357.