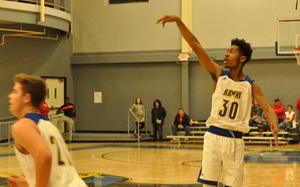 Hocking College Men's Basketball traveled to Sinclair Community College on Wednesday night to take on the Tartan Pride in an OCCAC battle. The Tartan Pride came into the game ranked 19th in the nation in NJCAA Division II play. Sinclair would continue their winning ways as they knocked off Hocking College, 109-69.
Sinclair was led by Dwayne Chastain with 20 points, 7 assists, and 4 rebounds. He was followed in scoring by Akiean Frederick and Leander Williams with 19 points a piece, LiDonta Hicks-Gentry added 14 and Quinnten McComas chipped in 12.
Hocking was led by Devonte Lash scoring 16 points and pulling down 7 rebounds. He was followed in scoring by Anthony Reid with 13, Luke Drayer with 7, D'Andre Clay, Raysean Jones, Darnei Hairston and Bryce Mooring each had 6 points, Keiron Morning added 5 and Joseph Clay chipped in 4 points off the bench.
The Hawks will be back in action Saturday when they travel to Clark State Community College for a 3 pm game. In the last meeting between the two OCCAC foes Hocking College came away with the 88-61 victory at home.