According to many historians, the first known recorded cases of massage therapy occurred thousands of years ago in ancient China and Egypt. Since then this profession has evolved from its humble beginnings into a prestigious 16 billion dollar industry.
So how exactly did massage therapy go from practitioners using oils and herbs, to relieving muscle pain and a thriving multifaceted industry that currently employs 335,000-385,000 people in the United States alone?
The following sections will attempt to explain how this career choice went from a rustic practice to a highly technical profession by examining its historical growth spurts over the past few decades.
The 18th Century
During the 1700s massage therapy first came to be recognized as a legitimate profession. Back then massage therapists were referred to as "Rubbers." Rubbers were primarily women with little education who were employed by surgeons. The purpose of rubbers was to help doctors rehabilitate their patients. The majority of their duties involved them using basic massage techniques to help lame patients learn to walk again.
The 19th Century
In the early 1800s a physician from Sweden named Per Henrik Ling invented a new technique that combined massage with medical gymnastics and physiology. His invention, The Swedish Gymnastic Movement System, utilized techniques such as stroking, pressing, squeezing, and striking to manually treat physical issues. Ling's creation used an approach that was both scientific and holistic in nature that came to be known as The Swedish Movement.
In conjunction, famed psychiatrist Sigmund Freud also began prescribing massages to those of his female patients who were suffering from a nervous condition referred to as hysteria.
Some other types of massage therapy that were introduced during this time period were magnetic healing, hydrotherapy and full body massages.
However, the biggest hurdle was attempting to separate massage therapy from the prostitution industry.
The 20th Century
By this time massage therapy was becoming so popular that independent masseuses and masseurs were in extremely high demand. Also, terms like "masseuse" and "masseur" were being steadily being replaced by the job title massage therapist.
During the early 1900s, massage therapy was also finally starting to be recognized as a respectable profession. In 1916, the state of Ohio helped support this concept by becoming the first state to regulate massage therapy and classify it as a branch of medicine.
The same year, Ohio helped polish this profession's reputation even further when Ohio native Agnes Bridget Forbes became the first licensed massage therapist in North America.
By 1930, hospitals all over the U.S. had begun staffing their facilities with physical therapists. Later in 1939 the Florida State Massage Therapy Association Inc. became the first organized professional association dedicated to promoting and supporting this profession.
By 1943, the American Association of Masseuses and Masseurs had been formed. That same year the Florida legislature enacted the very first massage act. Eventually more states did the same and by 1985, 10 states offered massage therapy licenses.
Massage therapy gained even more prestige when massages were offered for the first time as a core medical service to athletes during the 1996 Summer Olympics.
The New Millennium
At the beginning of the new millennium, 14 states including Massachusetts, Mississippi and Colorado passed regulatory legislation involving massage therapy.
The formation of the health and wellness industry inspired the creation of the first massage-based franchise dubbed "Massage Envy," which opened in 2002. Professional milestones such as this also helped change the general public's perception of massage therapy from being a mere guilty pleasure to being considered an effective form of preventative medicine.
Other significant advancements in the industry were the introductions of aromatherapy massage, hot stone massage, and the practice of utilizing massage therapy techniques to help patients manage physical pain.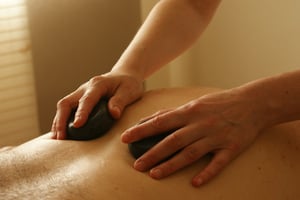 The act of getting a massage had eventually become so common that according to a 2007 survey taken by the American Massage Therapy Association, one quarter of all American adults had experienced at least one massage the previous year.
According to the Bureau of Labor Statistics, the industry has become so stable they estimate that 42,100 new positions in this field will be created between 2016 and 2026.
Currently, massage therapists can become licensed in at least 43 states, the District of Columbia, Puerto Rico, and the U.S. Virgin Islands.
However, perhaps the most overwhelming change in this industry has been the multitude of job options a degree or certificate in massage therapy can attract. A few of the current employment options out there for licensed massage therapist include:
Spas and resorts
Amateur & professional sports teams, as well as sporting events
Chiropractic offices
Cruise ships
Health clubs
Hospitals and wellness centers
Nursing homes/hospices
Physicians' offices and clinics
Salons
If you're interested in pursuing a career in massage therapy, check out Hocking College's Associate Technical Degree in Massage Therapy or the Massage Therapy Certificate.