Facebook. Snapchat. My Fitness Pal. Bitmoji. PayPal. Netflix.
These are just a few of the millions of apps available to mobile, tablet, and desktop users. According to Statista, statistics show that in 2018 Android users were able to choose between 3.8 million apps, while Apple users had a choice between 2 million available apps. So, what exactly is an app, how do you find the best ones, and which apps are best for Hocking College students? Continue reading to find out.
What is an App?
An app, or application, is software designed to perform specific tasks on a desktop computer, tablet, or mobile device. They can be downloaded either for free or for a small fee.
How Many Different Types of Apps Are There?
There are three kinds of building apps, which are:
Native: Apps made to be used on
mobile devices.
Hybrid: Apps made for website applications.
Web: Apps used in software application.
In regards to the different types of apps, there are six main categories which cover the following: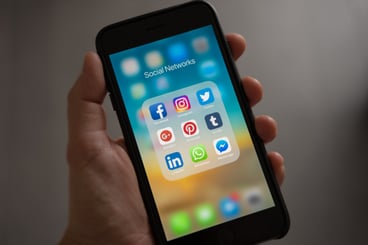 Lifestyle
Social Media
Utility
Games / Entertainment
Productivity
News / Information
What Are the Advantages of Having Apps?
Apps can be beneficial for the following reasons:
They're easy to use.
They offer both instant online and offline access.
They operate much quicker than the internet.
They're great for storing large amounts of information.
They help students receive quicker updates.
They can enhance students' study habits.
How Do You Search For Apps?
According to Popular Science Magazine's article, How to Find the Best Apps And Avoid the Duds, author David Nield makes the following suggestions when looking for apps:
Finding the good apps:
Follow the latest tech news.
Follow app developers on social media.
Follow tech columnists.
Take recommendations from family, friends, and instructors.
Avoiding the bad apps:
Seek out and read app reviews.
Read customer responses on the software company's website.
Read the instructions carefully before installing an app.
Don't grant permission for anything you're not comfortable with.
Which Apps Could Benefit Hocking College Students?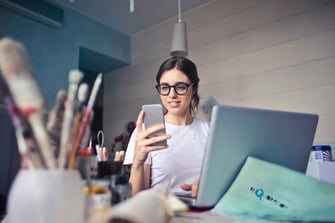 We went around to each department and asked the faculty to share their suggestions for apps students may find useful within their field. Here's what they suggested.
Allied Health & Nursing
Nursing • Charlotte Groves (Program Manager)
NCLEX RN Mastery — Master the most important test of your career, the NCLEX. This app includes over 2,000 practice questions, quizzes, mnemonics, and strategies.
Health Information Management • Jade Covert (Program Manager)
ICD10data.com

—

A

free reference website designed for the fast lookup of all current American ICD-10-CM (diagnosis) & ICD-10-PCS (procedure) medical billing codes.

Quick ICD 10

— A simple and quick way to search and convert ICD 9 codes to ICD 10 codes and back.
Physical Therapy Assistant • Mary Simon (Program Manager)


Medical Lab Technologies & Medical Assistant • Kimberly Ephlin (Program Manager)
CellAtlas — Includes a series of mini lectures with an extensive cell image library, giving students and laboratory professionals a top-line introduction to cell morphology.
Arts, Business, and Science
Art, Design & Marketing • Whitney Goller (Program Manager)
Canva — Create beautiful designs and layouts, share and print business cards, logos, presentations, and more.
Aviary — B

ring creativity to your fingertips with powerful tools and creative supplies that give you everything you need to make beautiful photos in seconds.
Business & Entrepreneurship • Micah Covert (Program Manager)
Clarity Money — Improve your own financial well-being with their data science and machine learning to analyze your personal finances, as well as help make smarter decisions with your money.
Computer Science
• Tasha Penwell
(Program Manager)
Network Engineering & Information Tech • Jacob Bookman (Faculty)
Cybrary — Build a more successful Information Technology and Cyber Security career.
Natural Resources
Natural Resources • David Sagan (Instructor)
SkyView —

This app brings stargazing to everyone! Simply point your device at the sky to identify stars, constellations, satellites, and more.
Ecotourism • Scott Kreps (Ecotourism Instructor)
Green Travel Choice —

Provides you with transparency to make an informed travel choice while on the road taking CO2 emissions into consideration.

buycott —

Support causes by joining campaigns created by some of the world's best non-profit organizations.
Wildlife Management • Lynn Holtzman (Program Manager)
Hospitality
Culinary Arts • Susanna Krutsch (Program Manager)
Kitchen Dial —

A free app that allows you to make measurement conversions easily with a neat dial.
Public Safety
EMS • Robert Cornwell (Program Manager)
Limmer Creative — The leader in EMS and Allied Health study and test prep apps.
Criminal Justice • Andrew McFarlane (Program Manager)
SCUG - U.S. Constitution —

A fully voiced, interactive talking program that is designed to tell you the U.S. Constitution, Bill of Rights, Amendments, and Declaration of Independence.
Workforce Development
Welding • John McClung (Program Manager)
Miller Welding — Get your weld parameter settings right from your device with the Miller weld setting calculator app. The calculator will help you tune your machine for optimal results based on a few simple questions.
Lincoln Welding —

Find the welding information you need; anywhere, anytime.
If learning more about the latest apps or the development of apps interest you, perhaps you should consider looking into a career in Computer Science. Hocking College's Computer Science Program includes the areas of Cyber Security & Network Systems, as well as Website & Applications Development.
For more information on either of these programs, contact the Computer Science Program Manager, Tasha Penwell, by email at penwellt31810@hocking.edu or by phone at (740) 753-7181.