On March 20, a report by CBS News spotlighted the important role truck drivers are playing in keeping American store shelves stocked during the coronavirus pandemic.
One of the drivers featured is Crissy Becker, a mother who sometimes spends 24 hours a day behind the wheel on stints that can keep her away from home for six weeks at a time.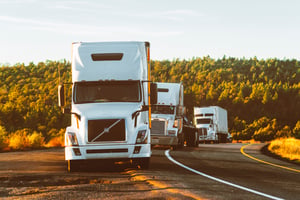 Another female driver named Shannon Newton was also featured. Although she admits that women in her profession don't always get the respect they might deserve, this current pandemic has elevated them to virtual "hero status."
What are the job opportunities like for female truck drivers?
According to a story published by USA Today, more and more women are choosing to enter the truck driving industry.
How many women are currently professional truck drivers?
USA Today reported there are currently 217,000 long-haul women truck drivers in America and that 6.2% of all truck drivers were women in 2017. This number is up from 4.9% since 2008.
What's the average salary for a truck driver?
In 2019, the average annual salary of a long-haul truck driver was close to $53,000 — an increase of $7,000 since 2016.
What are some other factors that are influencing this trend?
Besides being able to earn a significant income, some other factors have influenced more women to become truck drivers:
More women are seeing other women become successful in the truck driving industry.
More women are becoming the head of their respective households.
More women in our culture have become single mothers.
More women are becoming responsible for caring for their elderly parents.
More women are realizing that becoming a truck driver offers them the opportunity to get out of serious debt quicker than other jobs that might be easily available to them.
More millennial women are deciding against pursing a traditional college education that will require them to take out student loans.
More trucking companies are offering accommodations such as private shower rooms for women truck drivers at truck stops.
Modern technology has enabled more women to be able to manage their households from afar for extended periods of time.
What are the requirements to become a truck driver?
In order to qualify for a Commercial Driver's License or Commercial Learner Permit (CLP), applicants must meet the following criteria:
Be at least 18 years old
Be at least 21 to be able to carry cargo across state lines
Possess a Social Security card
Possess a valid driver's license
Be a legal U.S. citizen or permanent resident
Provide a valid Medical Examiner's Certificate from a licensed medical professional that attests that the applicant is of sound mind and body
Where can I get the training I need to become a truck driver?
Hocking College in Nelsonville, Ohio, offers students the opportunity to obtain a Commercial Driver's License Certificate. In only one semester students can graduate and can make their way into this profitable industry.
For more information on Hocking College's CDL program contact Dean of Community Outreach and Workforce Development Sean Terrell at terrells@hocking.edu or 740-753-7149.