College is expensive.
Although the cost can be overwhelming, financial aid breaks down how to make college affordable for students and they do this by using the Free Application for Federal Student Aid, also known as the FAFSA.
The FAFSA indicates what grants, work-study jobs, and student loans are available to you based on your income.
The problem? The FAFSA is a big, scary, beast for most first-time students. Read on for some of the most important information you'll need to know to understand the FAFSA.
1. How to Fill Out the FAFSA
The FAFSA is free to complete and must be done online. If you do not have internet access at home, we recommend completing the application at a local library, community college, or school.
If your computer does not have Adobe Reader, the user might be required to download that prior to beginning the application.
In total, the application should take you approximately 30 minutes to complete if you have all information readily available; however, if you need to leave, it will require that you set up a Save Key to allow you to come back if you need to finish it later.
The application will walk the user through each question. By selecting the

, Help and Hints will pop out from the right-hand side to further explain the question if something is unclear.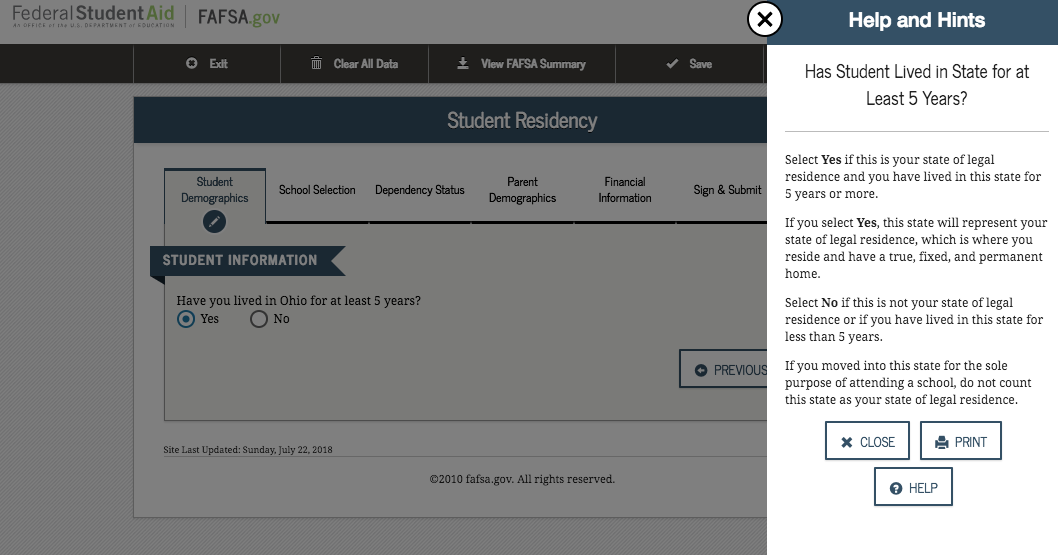 If you are trying to send your FAFSA to a specific school, be sure to use the Federal School Code. You should be able to get your Federal School Code from the Financial Aid website of the schools you are considering, or through the Federal School Code Search.
In order to ensure your confidentiality, students who complete the FAFSA will be required to sign the document with a FSA ID. This can be set up online at FSAID.ed.gov.
2. When to APPLY FOR FAFSA
The FAFSA is available every school-year beginning October 1 and it's recommended that you apply early.
According to EAdvisors, students who file early receive more than twice as much grant funding on average than students who file later.
3. understanding FAFSA Verification
Some students who complete the FAFSA will get a request to go through a process called Verification.
Verification is when a Financial Aid Office requests documentation from you to verify the information you entered on your FAFSA.
Typically, students will need to complete a Verification Worksheet and provide Financial Aid with the Income Tax Transcripts retrieved directly from the IRS, their Federal Tax Return, etc.
Not all students are selected for verification and not all students will be required to provide the same documents for verification. Refer to your Financial Aid department for the materials that you are required to submit.
---
Click here to learn more about verification through FATV
---
4. how to read the Student Aid Report
After filing your FAFSA, students will receive what is called the Student Aid Report (SAR), electronically or through the mail. This report is also sent to any of the schools who were idenitifed through their Federal School Code on your FAFSA.
According to FATV, this tells schools what your eligibility is and is then used as a guide to create your award letters.
Those who provide an email on your FAFSA will typically have access to your SAR within five days of filing. If no email is provided, it may take up to three weeks to receive a paper copy through the mail.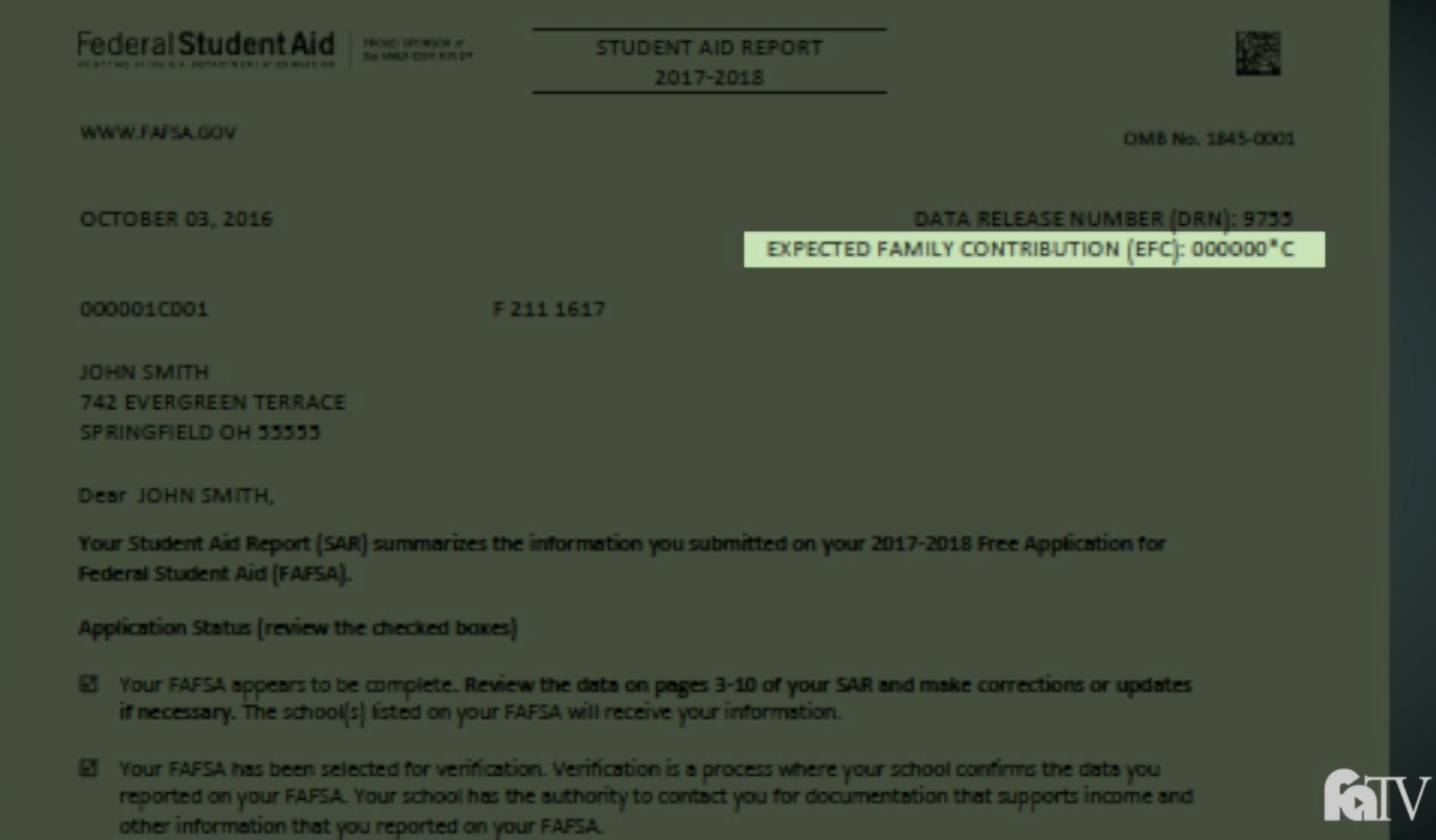 Once you receive the copy of your SAR, the first page will contain the summarized results of the information you entered on your FAFSA and the date that it was submitted.
This document will also include your social security number followed by the version number. If this is the first time submitting and no revisions were required, you will see the number 001 appear after your social.
The other important information to note is the Expected Family Contribution (EFC), located on the top, right-hand side. This is the number the school uses to determine what your eligibility is for financial aid. Please note, the EFC is not the amount that your family has to pay for school.
Additional Financial aid Resources
This information is available 24/7 through Hocking College's partnership with Get Answers, an online library of short video clips that are accessible on demand. These videos communicate complex financial aid information to both current and prospective students in an easy-to-understand style.
We encourage you to visit Hocking College's GetAnswers website to view additional videos.