In today's competitive job market, having leadership experience is a skill that no applicant can afford to be without. However, in order to become a successful leader, applicants must first determine which style of leadership will best compliment their personality.
Listed below are a few examples of different leadership styles that would appeal to a variety of different personality types.
Autocratic Leadership: A leader refuses to share power and has a significant amount of control over their staff who work in an extremely boss-centered environment.
Bureaucratic Leadership: Bureaucratic leaders keep their staff in line by implementing a strict code of rules that they're required to follow.
Charismatic Leadership: The leader uses their personal charm and charisma to gain their staffs' respect and loyalty.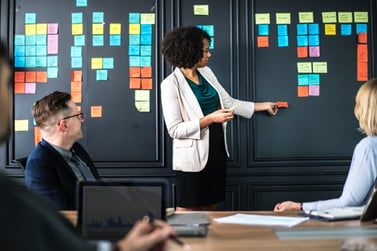 Coaching Leadership: The leader uses positive reinforcement to literally cheer their staff on and encourage them to excel in their daily duties.
Democratic Leadership: Democratic leaders rely heavily on the input of their staff members in every decision-making process they initiate.
Facilitative Leadership: Facilitative leaders observe the group dynamics of their staff and take either a regimented, or leisurely, approach toward directing them based on how high or low functioning their employees are.
Laissez-faire Leadership: A leader assigns tasks, but does not dictate or interfere with how their staff accomplishes them.
Servant Leadership: All decisions are made on a collective and collaborative basis between the leader and their staff members.
Situational Leadership: A leader uses a combination of different leadership styles to keep their staff motivated and productive.
Transactional Leadership: Transactional leaders use a reward system to motivate their staff members to accomplish goals.
Transformational Leadership: A leader encourages their staff to use their imaginations and creativity to accomplish tasks.
Visionary Leadership: A visionary leader is someone with a clear vision of where they feel their business is headed and inspires their staff to share their perception of the big picture.
Regardless of which leadership style you are, consider the advice of the late famed First Lady Eleanor Roosevelt (1884-1962) who offered the following leadership-based advice: "Do what you feel in your heart to be right – for you'll be criticized anyway."
---
If you're looking for a college to take you from student to leader, perhaps you should consider Hocking College in Nelsonville, OH. Hocking College offers over 50 degree programs in the following fields:
For more information about our programs, contact the Hocking College Admissions Team by email at admissions@hocking.edu or by phone at (740) 753-3591.