NELSONVILLE, Ohio—The Hocking College men's basketball team secured a victory on Wednesday, March 24, against Clark State College, 87-85, at the Hocking College Student Center to improve its best-ever record to 12-3. The game was a good test for both teams and was exciting until the very end, but Hocking College was able to secure the victory late and get some revenge from the 100-99 overtime loss they suffered to Clark State last week.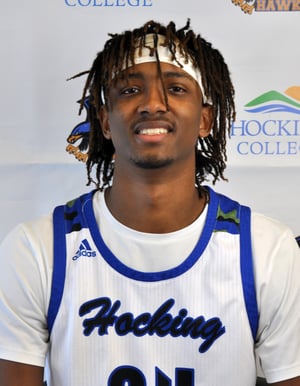 Clark State jumped out to an early lead, but the Hawks clawed their way back into the game with great decision-making and shooting. Some highlight-reel plays by the Hawks' 6'7" center Chris Ringfield included two monster jams. Shooting guard Tyree Robinson chipped in with his own put-back slam that got the Hawks bench on their feet. Keshonn Loury also got in on the action with six threes to keep the Hawks in the game. With 7:45 to go in the first half, the score was 28-25 in favor of Clark State. A 12-0 run by Hocking gave them a 37-28 with three minutes left to go in the half. The Hawks maintained the momentum and took a 43-34 lead going into the break.
Hocking College came after halftime and continued to put pressure on the Eagles. The Hawks were able to push their lead to 16 within the first three minutes of the second half as they led 54-38. However, Clark State fought its way back into the contest. The Eagles caught fire with ten minutes remaining in the game as they went on an 8-0 run to bring the game to within four. With three minutes remaining, Hocking held a slim one-point lead, 81-80. The Hawks and Eagles traded buckets, and with less than 15 seconds left, Clark State had the opportunity to either win the game or send it to overtime. The Eagles sharpshooting point guard, Ryan Marchal, took the final shot for three, but the ball didn't even touch the rim, and by the time it hit the ground, the buzzer sounded as the Hawks came away victorious.
The leading scorer for Hocking College was Ryan Archey Jr. with 20 points, six rebounds, six assists, one steal and a block. Keshonn Loury was Hocking College's second-leading scorer with 18 points, all of which came from the three-point range. Loury also grabbed three rebounds and dished out five assists. Tyree Robinson added 12 points, four rebounds and an assist. Clark State was led in scoring by Ryan Marchal, who netted 33 points, four steals and three assists.
The Hocking College men's basketball team returns to action for its final game of the regular season on Saturday, March 27, at Terra State Community College at 1 p.m. The Hawks hope to return to the Top 20 and be considered for an At-Large berth in the NJCAA D-II tournament.