If you have aspirations of one day becoming an entrepreneur, the best way to begin is by starting to think like one.
The following are ten ways to help you develop the entrepreneurial mindset you need in order to succeed in the business world.
Stay Passionate.
If your goal is to have your business succeed, then you'll need to inspire your coworkers every chance you get. The most effective way to accomplish this is by staying positive and displaying how passionate you are about your company every chance you get.
Remain Flexible.
By making a serious attempt to stay open minded, you'll be able to embrace unexpected changes with much more flexibility.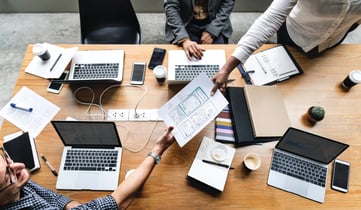 Communicate. Communicate. Communicate.
If you want to be successful in the business world, everyone who works for you needs to be fully aware of where you stand on anything and everything that has to do with your business.
Be Enterprising.
When you're faced with obstacles that might appear unresolvable, try exploring and implementing new ways to resolve and overcome them.
Stay in Problem-Solving Mode.
Instead of getting discouraged when you have a professional setback, try focusing on potential solutions instead of the problems.
Refuse to Tolerate Inefficiency.
Behind every successful entrepreneur is a hand-picked team of loyal and dedicated coworkers. However, when one of those team members' productivity begins to fall short of your expectations, it will be up to you to address the situation and give that employee the incentive they need to turn their job performance around.
Stay Focused on the Big Picture.
Maintaining a clear vision of what you want to achieve will help you stay focused-especially when you fall short of your aspirations.
Embrace the Element of Risk.
Whereas the prospect of taking a great financial risk can motivate some people from taking a business-oriented leap of faith, true entrepreneurs need to know how to channel their fear into the faith that they will somehow make their dreams come true.
When in Doubt, Brainstorm.
Chances are, if you're a business professional, you'll be faced with problems you won't immediately know how to solve. At times like this, it would be advised to gather the members of your team and invite them to help you come up with the solutions you need as a group.
Don't Give Into Fear.
While it's natural to have some fears and apprehensions about going into business for yourself, giving into such feelings could motivate you to doubt yourself and your potential for success.
Where Can I Get the Education I Need to Become an Entrepreneur?
If you're interested in becoming an entrepreneur, you should look into Hocking College's Business Management & Entrepreneurship program. In two years, you could graduate with an Associate of Applied Business in Business Management and Entrepreneurship.
For more information on Hocking College's Business and Entrepreneurship program, contact Program Manager Micah Covert by email at covertm29000@hocking.edu or by phone at (740) 753-7213.