Nowadays, there's almost an app for everything, including apps within the Water and Wastewater Management field. An app, which is software designed to perform specific tasks on a desktop computer or mobile device, can be downloaded for free or for a small fee.
Listed below are both free and paid apps that students and professionals in the Water and Wastewater Management field should consider downloading to help make their life a little bit easier.
---
Free Apps
OpCalc - Waste Water
Device: iOS
OpCalc is for Water/Waste Water field operators that need to perform calculations on the go, without an internet connection. This capability will help minimize error and maximize efficiency for calculation related tasks.
Rural Water Calculator
Device: iOS & Android


This calculator for the rural water community includes every formula and calculation needed for water and wastewater utility operators. Calculation categories include perimeter, area, volume, flow, detention, pressure, head, water loss and flow estimation, concentration, dosage, loading, temperature, weight, common conversions, horsepower, efficiency, F/M ratio, solids, wasting, sewer inflow estimation, chemical calculations, and process efficiency.
Waste Water Reclamation Plant
Device: Android
A simple and easy-to-use utility that calculates m

ixed liquor suspended solids (

MLSS), return activated sludge

(RAS),

and waste

activated sludge

(WAS) for those who work at water reclamation facilities.
Env Calcs
Device: iOS


This app is designed for engineers, operators, and students to perform calculations such as pipe velocity, pipe diameter, friction head loss, mixer horse power, chemical consumption, chemical dose, residence time, blending concentration and much more. Feature allows users to select from imperial or metric unit system.
Hydraulics and Waterworks Calc
Device: iOS


Hydraulics Calculator contains 94 calculators and converters that can quickly, and easily, calculate and convert different hydraulics, water works, and civil engineering parameters.
Wateropolis
Device: iOS


Wateropolis is designed to provide fast and accurate results in any demanding situation. Download their 5 free formulas to have access to key formulas, convertors, and look-up tables. Users can use their email feature to share their results with their colleagues, co-workers, or to save for use later.
---
Paid Apps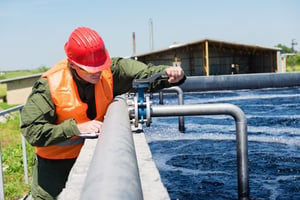 Plutocalc Water & Wastewater
Device: iOS & Android — $3.99


Plutocalc is the most complete and popular problem solver suite for water treatment, wastewater, hydraulics, environmental chemistry, and unit conversions.
Water Treatment 1900 Flashcard
Device: iOS — $3.99


This app is designed to make your study life easier to manage.

Learn & educate yourself as much as you can with

exam questions and study notes
.
Water Treatment Plant Process
Device: iOS — $0.99


This interactive app is designed to help students learn the properties of water, water treatment plants, water purification, water contamination, and sources of water in an innovative learning method.
Wastewater Manager
Device: iOS & Android — $8.99


This Wastewater Manager app is designed for wastewater operators, engineers, or anyone else who has a need for easy-to-use mathematical formulas relating to wastewater. The formulas are organized by processes and can be used to assist in daily lab work, process troubleshooting, and more.

---
Where Can I Get The Training I Need to Get Into the Water & Wastewater Management Field?
Hocking College in Nelsonville, OH offers an associate degree in Water and Wastewater Management. In only four semesters, students can graduate with an Associate of Technical Study in Natural Resources: Major in Water and Wastewater Management. This is the one of several programs that'll be completely online beginning in Fall 2019.
How Can I Find Out More This Program?
For more information about the Water & Wastewater Management program at Hocking College, contact the Program Manager, Kelly Barron-Holcomb, by email at barron-holcombk@hocking.edu or by phone at (740)-753-6275.