College students may not be known for their stellar sleeping habits, but that doesn't mean you should suffer from insomnia. Between a noisy dorm setting and an unfamiliar sleeping space, you may find yourself lying awake at night. It's no wonder why as much as 70% of college students aren't sleeping enough.
But if you're having trouble sleeping, a few simple tweaks may help get you back on the right track. Try these four tips for getting a better night's sleep while you're in college.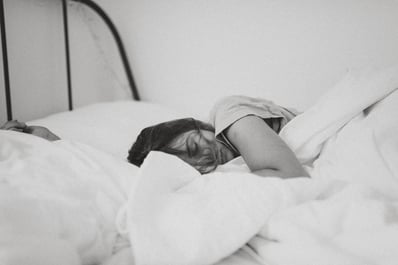 1) Set a Regular Bedtime.
When your body is accustomed to sleeping at a certain time, you
may find it easier to drift off to dreamland when that time comes. It may be difficult to keep a tight schedule on weekends, but do your best to stick with a regular bedtime. When your bedtime and wake times fluctuate, it can be nearly as detrimental as getting too little sleep.
A 2002 Journal of College Student Development study found that students who had large variations in their sleep schedules showed similar symptoms of fatigue as those who got less than average amounts of sleep.
2) Create A Calming Sleeping Environment.
When you're living the dorm life, you won't always have control over your environment. Still, there are a few things you can do to create a calming space for sleep. Here are a few tips for creating such an environment within your dorm room:
Create a light-filtering canopy around your bed with dark curtains. You can accomplish this with a shower curtain by hanging hooks on the ceiling, or you can hang curtains with a tension rod. When it's time for sleep, close the curtains to ensure your sleep space remains dark.
Hang light-filtering curtains on the windows. You may need to run this by your roommate, but it's also a good idea to reduce the natural light from any windows in the room. This is especially important if you tend to sleep late or go to bed before dark.
Use a white noise machine. If you're constantly being woken up by noisy neighbors, consider placing a white noise machine next to your bed. The white noise should help muffle any sounds from outside your room.
Use ear plugs. If the noise is especially loud, consider using earplugs whenever you sleep.
3) Establish a Relaxing Nighttime Routine.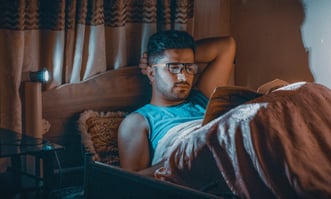 It can be difficult to transition straight from technology to sleep, so try to unplug from your devices at least an hour before bedtime.
During this hour, find an activity that makes you feel relaxed. This may include taking a hot bath, listening to soothing sounds, or reading a book. During this time, avoid any activities that stimulate your mind. This includes studying, so if at all possible, wrap up your study sessions well before bed.
4) Avoid Alcohol Before Bed.
The nightcap may commonly be used as a sleep aid, but it could have the opposite effect. Alcohol can actually interfere with your ability to get a deep, restful sleep. This is part of the reason why you're likely to feel tired after a night of drinking, even when you think you've slept enough.
Try any or all of these tips to help drown out the noise, wind down, and get a better night's sleep while in college.
---
About the author: Emily Walters is a freelance writer and part of the content marketing team for Mattress Clarity. She enjoys using her passion for writing to help educate others about the importance of proper sleep and to assist consumers with navigating the mattress and sleep industry.