If you're interested in becoming a professional musician, then you'll need to learn everything you can about the music industry. But where is the best place for you to learn about this industry?
For starters, you could read a book written by an established musician whose insights can teach you everything about this industry you might not be able to learn inside a classroom.
According to a recent article in MusicTech Magazine, the following are 6 books that any musician could benefit from reading.
Where Can I Get the Training I Need to Break Into the Music Industry?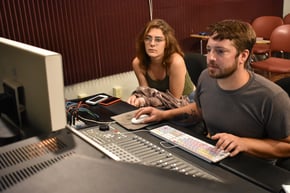 Hocking College in Nelsonville, OH has a Music Management program. for those interested in getting into the music industry. In only two years, you can graduate with your Associate of Applied Business in Music Management degree.
What Will I Learn in this Program?
Students who enroll in Hocking College's Music Management program will learn about the following subjects:
Music licensing & publishing
Electronic music production (making beats)
Music contract negotiation
Tour bookings & promotions
Recording studio techniques & mixing concepts
Live sound production
Audio engineering for film & video games
For more information about this program, contact the Program Manager, Scott Winland, by email at windlands14721@hocking.edu or by phone at (740) 753-6126.