Phi Theta Kappa Honor Society (PTK) has been providing students at 2-year colleges with opportunities to earn scholarships, develop their leadership skills, and give back to their respective communities for nearly 100 years.
Founded on November 19, 1918 Phi Theta Kappa is the world's largest organization specifically devoted to recognizing the achievements of honor students at 2-year institutions. Currently, PTK has approximately 3 million members globally.
PTK encourages members to participate in their Five Star Chapter Plan. The purpose of each level is to help each chapter become more unified and visible in their region. The levels to this plan are:
Organize and orchestrate a PTK membership campaign.
Establish a system of leadership in each chapter.
Develop both an Honors in Action and college-oriented service project.
Make each chapter more visible on campus and in the community.
Become more involved with PTK on an international level.
Presently, Hocking College's chapter of PTK is the Alpha Mu Delta Chapter. They meet weekly and encourage members to assume leadership roles both on and off campus.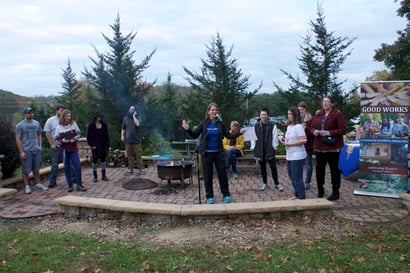 According to PTK Advisor, Danita Reynolds, Hocking's chapter has also been instrumental in executing projects designed to bring awareness to issues such as homelessness. One such project was last year's Project Homeless in which PTK members spent a night outside on campus sleeping in cardboard boxes. As a result, they raised over $700.
How Can I Join Phi Theta Kappa?
There are several requirements to joining PTK, which are:
Membership to PTK is open to students on an invitation only basis
Students must have completed at least 12 college credits
Students must have a GPA of at least 3.5 or higher
Students must pay a one-time only fee of $90. However, scholarships are available that can reduce the fee to $20
What Are The Advantages Of Joining PTK?
Some advantages of joining PTK are:
Members have access to scholarship opportunities which in Ohio alone totals nearly $90,000.
Members who decide to transfer to a 4-year school have the opportunity to get financial discounts.
Members can receive letters of recommendation.
Members will have chances to develop and hone in on their leadership skills.
Member association with PTK will be noted on their academic transcripts.
Members can receive tutoring and mentoring opportunities.
Members get to become part of a community of like-minded individuals dedicated to bettering themselves and their communities.
For more information on Phi Theta Kappa or Hocking College's Alpha Mu Delta Chapter, contact Danita Reynolds.