Konrad Von-Karl Malcom is a former international student whose son recently enrolled at his alma mater—Hocking College!
Born in Jamaica, Konrad graduated from Rusea's High School in 1988 with several honors that included General Certificates in both Education in Human & Social Biology and Agricultural Science & English Language. He also earned a Bachelor of Science degree from Western Hospitality Institute under the guidance of Dr. Cecil Cornwall.
In 1993, Malcolm earned an Associate of Science-General Agriculture degree from the College of Agriculture Science and Education in Portland, Jamaica. Afterward, he taught Principles of Accounting and Business and Integrated Science at both Merlene Ottey High School and Green Island High School.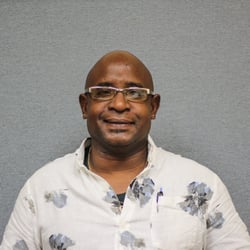 Then, Malcolm got a scholarship that allowed him to travel to Nelsonville, Ohio and become a student at Hocking College. There, he enrolled in the school's Hotel & Restaurant Management program.
While studying at the McClenaghan Center for Hospitality at Hocking College, Malcolm stated he "gained knowledge and obtained skills that have guided me throughout my entire career."
While he was a student, Malcolm also served as a tutor for students enrolled in both the hospitality and accounting programs. After earning his Associate of Applied Business-Hotel & Restaurant Management degree in 2002, Malcolm has continued to find success in the hospitality industry.
Some of the job titles he has held since graduating from Hocking College have included being the Food & Beverage manager for Rick's Café in Negril, Jamaica, and serving as the Assistant Food & Beverage Manager for Sandals Resorts. Currently, Malcolm is the Operations Manager for Couples Swept Away, a 312 room all-inclusive resort in Jamaica.
Years later, when his son, Domonic, was considering colleges that could help him get into the medical field, Malcolm was incredibly pleased when his son expressed an interest in enrolling at Hocking College. This fall, Domonic is a student in Hocking College's nursing program.
His father is especially grateful to staff members who helped make it possible for his son to realize his goal of attending his alma mater. Malcolm noted that "The energy and patience the staff put into making my son's dream a reality speaks volumes about their professionalism and level of integrity."
Malcolm recently accompanied his son when he attended Start Week at Hocking College. Although it has been over 20 years since he was a student here, he was struck by how familiar the campus still felt.
He specified that "Even though the campus looks very different, the atmosphere here is still as welcoming and energizing as it was when I was a student here." Malcom added that "How could my son not succeed in an environment like this!"
To find out more information about becoming an international student at Hocking College please visit the following link: https://www.hocking.edu/international-students-resource-center.
To find out more about Hocking College's easy 3-step admissions process please click the following link: https://www.hocking.edu/the-admissions-process.
Prospective students can also contact the HC Admissions Department directly at one of the following:
(740) 753-7050
admissions@hocking.edu