On Friday, September 20, 2019, students from Artista Rock School will be performing during the Hocking College Homecoming from 9PM until 10:30PM.
The show will feature a revolving lineup of students, ages 8-18, performing covers of classic songs, from music legends like Fleetwood Mac, Journey, Jimi Hendrix and more.
Located at 38 W. Main Street in Logan, Ohio, Artista Rock School is the creation of local musician, Jesse James Russell. What began as an afterschool workshop, in January 2017, has evolved into a successful creative launching pad for aspiring singers, musicians, and audio experts.
Russell also offers his students private one-on-one and group lessons, as well as instruction in every aspect of what it takes to make a musical performance look and sound professional.
"[I believe Artista Rock] offers local youth, from all backgrounds and skill levels, a creative, safe outlet for expression and collaboration," said Russell, "The idea is to inspire our students to be passionate about something positive and less focused on things like negative peer pressure and social media."
As a Councilman for the City of Logan, Russell expressed his sincere concern for Hocking County and neighboring counties needing more youth activities.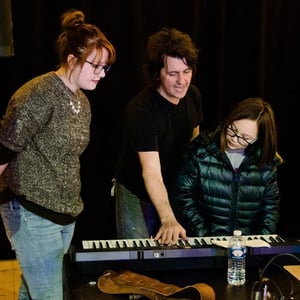 "Our area has limited options for youth; a substance abuse epidemic, and a downtown long overdue for revitalization," said Russell, "Located in the heart of downtown Logan, ARS provides an accessible learning environment during the danger hours by using music and collaboration as motivating forces to push youth musically and socially."
Equally important to Russell are the opportunities his students get to perform before a live audience, courtesy of the ARS's monthly concerts. From his experience, performing for an audience helps his students increase their self-esteem and builds their confidence in their own musical abilities.
"The program provides a platform for them to build relationships and skill sets necessary to be successful in life, all while contributing to their community," explained Russell, "Our belief is if we prepare kids for stage performance, and provide consistent opportunities for them to collaborate and showcase their talent, they can do anything!"
ARS students usually perform for audiences made up of a minimum of 80 of their family and community members, however, they've made appearances at several festivals including the Washboard Music Festival, Lilyfest, and the Urban Airstreamers event.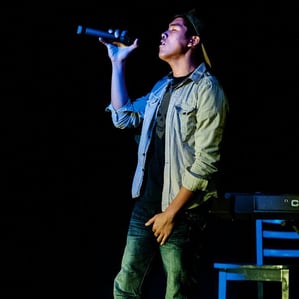 "The students become extra excited when they have the chance to perform for a new audience, such as those attending Hocking College's homecoming festivities," said Russell
Courtesy of grants and the school's generous sponsors, even those without the financial means are able to take part in the Artista Rock School. The various funding has also allowed the students the opportunity to participate in activities like a recent Summer Rock Camp, and undertake projects like a 50th Anniversary Woodstock tribute concert and a performance of Pink Floyd's "The Wall" in its entirety.
For more information on Artista Rock School, contact Jesse James Russell by phone at 740-407-5894, or visit either the school's homepage at artista.rocks.
about the Hocking College Homecoming
Hocking College is encouraging alumni, family, and friends to return to the Hocking College campus for a weekend of free camping, music, food, fun, and football September 20 through September 23.
For a full schedule of events for Hocking College Homecoming 2019 visit www.hocking.edu/homecoming. Camping is limited, so reserve your spot early.