What Is A Correctional Officer?
A Correctional Officer is a member of law enforcement whose duties and responsibilities extend beyond those of law enforcement officers. A Correctional Officer is also an umbrella term that covers a wide range of different job titles. These varying positions can range from being employed at a prison to working for the probation system, U.S. Postal Service, or the Internal Revenue Service.
What Are The Benefits Of Becoming A Correctional Officer?
Corrections employees have job security.
Chances for advancement are plentiful.
After 20 years of service, employees can consider taking early retirement.
Correctional officers make a median pay of $40,580.
The industry growth rate indicates that there'll be 17,900 corrections positions waiting to be filled by 2024.
Where Can I Get The Training I Need?
Students planning to get into the corrections field should investigate attending Hocking College in Nelsonville, Ohio. Hocking offers an Associate of Applied Science in Criminal Justice in Corrections that can provide students with the training they need to be successful in this challenging and rewarding field.
In only four semesters, students can obtain their degree and begin seeking employment in this thriving industry. Another advantage of pursing a Corrections degree from Hocking College is that they now have a '2+2 articulation' agreement with both the University of Cincinnati (UC) and Ohio University (OU). According to the terms of these agreements, once students have obtained their associate degree from Hocking College, they can then pursue their bachelor's degree at either UC or OU.
What Job Duties Do Correctional Officers Perform?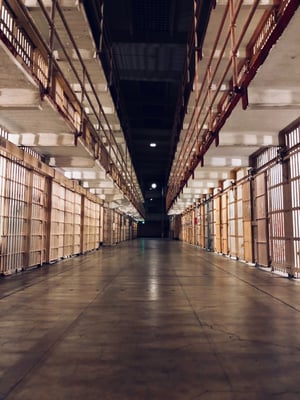 Depending on their title and place of employment, the daily duties of correctional officers can differ depending on their work environment. However, in all instances they are expected to carry out the following tasks:
Uphold the laws of the state they reside in.
Enforce the rules and regulations established by their employer.
Inspect any facility they're employed at.
Perform routine searches.
Perform transports.
Fill out precise reports when incidents occur.
Know how to respond during emergency situations.
Help maintain a sense of order and discipline at their place of employment.
What Qualifications Do I Need To Meet?
Students who plan to enroll in Hocking College's Corrections program should be prepared to meet the following qualifications:
Be a legal U.S. citizen
Have a high school diploma or GED
Have zero felony convictions
Be able to pass a drug screen
Have good communication skills
Be able to work different shifts, including nights, weekends and holidays