Would you classify baking as a means of self-expression? Are you the kind of person who puts the same amount of care into baking a loaf of bread that a painter would put into creating a work of art? Have you ever purchased a store bought cake and later said to yourself, "I think I could have done a much better job myself."? If so, then perhaps you should become a professional baker!In addition to having a rich history that can be traced back to the Ancient Egyptians, the baking profession is a career choice that has several positive and practical advantages to consider:
Experienced bakers are always in demand.

The employment prospects for professional bakers are incredibly diverse, and offer job opportunities in many different and exciting settings

Baking is a gender neutral profession that offers vast job opportunities for both men and women.

On the average professional bakers make a median salary of $24,170

Baking has a proposed industry growth rate that predicts the availability of 13,000 potential baker positions by 2024.
Turn Your Passion For Baking Into A Profession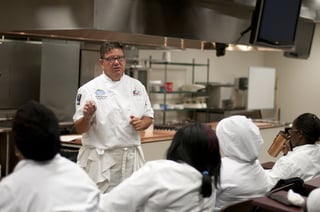 Prospective professional bakers should be aware that they need more than just a passion for baking to become successful this competitive, and sometimes extremely physically demanding, field. In order to secure steady and gainful employment, all potential bakers should possess the following physical, work-related, and character-based, assets in order to succeed in this profession on a long-term basis:

Physical Assets:
Stamina

Strength

Keen sense of smell and taste

Good eyesight and hearing

Good personal hygiene habits

Ability to withstand extreme heat and humidity
Work-Related Assets:
Professional baking experience

Good professional reputation

An aptitude for business

Expertise with kitchen tools and equipment

A commitment to quality and excellence
Character Assets:
Positive attitude

Ability to be a team player

Comfortable working with-and for-people from different backgrounds, cultures, and orientations

Ability to cope with unforeseen circumstances and situations

Ability to follow instructions

Ability to handle criticism

Ability to multitask

Ability to work well under pressure and time restraints

Creativity

Dependability

Flexibility

Good communication skills

Good organizational skills

Good problem solving skills
Selecting The Right Culinary Arts Program

Students who are serious about pursing a degree in baking should do their research and consider the following questions before deciding where they want to attend school:
Will my instructors be professional chefs?
Will the program help me obtain the knowledge and develop the skills I need to achieve my goals?
Does the program have a good professional reputation?
What can I expect in regards to class sizes?
Does the curriculum include any kitchen-based safety, sanitation, and procedures I need to become familiar with?
Does the curriculum include classes to help me develop my business and communications skills?
Will the program provide me with both hands-on and field experience?
Will the program expose me to the business side of my chosen profession?
Will the program provide me with networking opportunities?
Does the college make it possible for me to live on campus?
Can I get my desired degree in a reasonable amount of time?
Will I be eligible for employment immediately after graduation?
Hocking College Has the Recipe For Your Success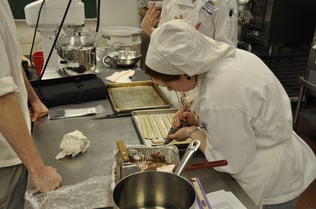 Now that you've decided to turn your passion for baking into a profession, the next step to take is finding the ideal school to help you reach your culinary dreams.
Any budding baker who decides to pursue Culinary Arts at Hocking College will find a dessert cart of advantages that include:
Best Choice Schools recently selected Hocking College as one of their picks for Top 10 Culinary Schools.

Instructors are experienced chefs, including two certified Master Chefs.

A program that is accredited through the American Culinary Federation Education Foundation Accrediting Commission.

Smaller class sizes that give students more opportunity for one-on-one time with their instructors.

The opportunity to receive hands-on and actual field experience.

Professional instruction in the arts of baking and pastry production.

The opportunity to learn how to create cakes, desserts, candies, and confections.

Instruction in how to properly use recipes, production and function sheets, and develop a variety of menus.

Training in proper uniform protocol and kitchen hierarchy.

Financial Accounting and Applied Mathematics classes to help students develop their business and math skills.

Speech and English Composition courses to help students improve their communication skills.

The opportunity to participate in on-site practicums at Rhapsody, the college-owned restaurant located in the historic Nelsonville Public Square.

Networking opportunities to help students gain employment after graduation.

The option to live on-campus in one of Hocking College's residence halls.

The opportunity to obtain an Associate of Applied Business in Baking degree from Hocking College in only four semesters.