Have you ever had your blood drawn, or had your height and weight measured before a doctor's appointment? If so, it was a medical assistant who performed these tasks.
A medical Assistant (aka MA) are medical professionals who are qualified to work in most outpatient care facilities, physician's offices and clinics.
Medical assistants also perform many duties, including:
Patient reception
Scheduling, coordinating, and monitoring appointments
Establishing, organizing, and maintaining patient medical records
Measuring patient vital signs
Assisting in minor office-based procedures
Drawing blood from patients
Are Medical Assistants In Demand?
Yes! Overall, job prospects for medical assistants are expected to increase by 23% in the next 10 years.
Positions for medical assistants are naturally available in urban areas due to the high volume of people. However, it is generally safe to say that regardless of where you live, there are job openings for qualified medical assistants out there waiting to be filled.
What Qualities Does A Medical Assistant Need?
If you want to become a medical assistant, having the following qualities will definitely benefit you:
Ability to be a team player
Compassion
Excellent communication skills
Critical-thinking skills
Time-management skills
Punctuality
Unlike other medical professionals, like registered nurses who need to do some heavy lifting, medical assistants are not usually expected to do a lot of heavy physical actions. However, they do need to have physical stamina, fine-tuned motor skills, and good manual dexterity.
How Do I Become A Medical Assistant?
Technically you do not need a degree to become a medical assistant. However, job applicants who have a certificate or an associate degree from a post-secondary program have an advantage over applicants who do not.
What are the Advantages of Getting a Certification Verses Getting a Degree?
MA Certification Advantages:
Certified medical assistants are viewed as being more qualified than someone without certification.
Having a certificate means that the holder will earn a higher salary than their non-certified counterparts.
Certification programs can be completed in one year.
Certification programs are extremely fast-paced.
Certification programs are extremely focused and do not include courses that the students won't necessarily need.
MA Degree Advantages:
Job applicants with a two-year associate degree are viewed as being more qualified than applicants with a certificate.
Associate degree holders can expect to make more money than certificate holders.
Associate degree programs can be completed in only two years.
College credits can easily be transferred to a four-year institution should they decide to further their education.
Why Should You Get Your Medical Assistant Degree at Hocking College?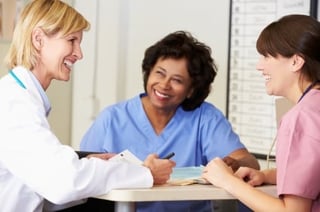 Nestled in the foothills of Appalachia, and surrounded by the natural beauty of Wayne National Forest, Hocking College is an exceptional two-year school that offers anyone seeking an Associate of Applied Science in Medical Assistant degree the ideal setting in which to pursue their academic ambitions.
Hocking also offers students planning to become medical assistants the following advantages:
Hocking College's tuition is affordable compared to other institutions.
Hocking offers a payment plan so students are able to pay for their education in manageable installments.
Hocking College has dorms in order to accommodate students who wish to live on-campus.
Hocking's smaller class sizes means that students will be able to have more one-on-one time with their instructors.
Students will be able to spend time working in clinics and physician's offices in the area.
Hocking College's medical assistant degree program is accredited by both the Commission on Accreditation of Allied Health Education Programs (CAAHEP) and the American Association of Medical Assistants (AAMA).
An Associate of Applied Science in Medical Assistant degree can be obtained in only four semesters.
Are you ready to become a medical assistant? Hocking's program prepares graduates for entry-level careers in ambulatory health care settings, such as medical offices and clinics, and provides students with a background sufficient for growth and advancement in the medical assisting profession.