For many students in the United States, a free college education is out of reach; however, filling out the Free Application for Federal Student Aid (FAFSA) can provide some relief on the wallet. The US Department of Education provides grants and loans of more than $150 billion each year to students who fill out the forms.
Although the process may seem daunting, filling out the form and applying for financial aid is not that difficult. Follow this FAFSA checklist for a painless, potentially lucrative, experience, to help you earn your two-year degree in Ohio.
Step 1: Collect Everything You Need
Before you begin the application process, you must have the following items:
Your Social Security number

The Social Security numbers for your parents if you're still considered their dependent
Your driver's license number, if you have one;
Any federal tax returns you or your parents have for the previous year will be necessary, as well as any untaxed income records; and
Your and your parents' bank and financial information.
Step 2: Visit FAFSA.gov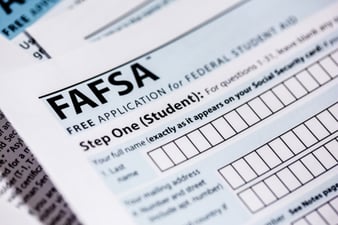 The second step in the FAFSA process is to visit FAFSA.gov. There you can fill out the form online or print a PDF to mail. You and your parents will receive an FSA ID, a personal password and a username that grants you access to your information. You will also use it to sign documents if you file online. FAFSA applications are available to fill out for the upcoming school year on October 1 and will be accepted after that date for each school year.
When filling out the form, remember to be as accurate as possible. You will be asked seemingly personal questions about your or your parents' finances, but this is necessary since a large portion of the awards you may be eligible for are based on your expected family contribution (EFC) to your education. That doesn't necessarily mean that you won't qualify if your parents make a lot of money; other factors are involved when schools consider who to give aid to, as well as how much to give.
When your application is examined, the Department of Education will prepare a student aid report (SAR) for you, detailing what, if any, award you are eligible to receive. Every college has a school code which you must know for your report to be sent there. Codes can be found on the FAFSA.gov homepage; the code for Hocking College is 007598. Once your report is received, the financial aid offices at the schools to which you send your information will consider your expected family contribution (EFC), as well as what year you will be entering in school, the cost to attend the school and whether you are enrolled full or part time.
They will use a formula to determine how much aid to offer you. Some of the considerations include the cost of tuition, fees, living expenses, textbooks and even supplies you will need for academic success. If you are accepted as a student at a school where your information was sent, they will inform you of how much aid you qualify for.
After you fill out all the information, submit it online or by mail. If you submit it online, you will be directed to a confirmation page, which should be printed and saved for your records. If you need assistance filling out the form, visit the FAFSA website or contact the Hocking College financial aid department.
---
Unsure on whether you qualify for Financial Aid? Check out the video playlist
below for more information.