Looking for something to get into this weekend? Jump on the GoBus and hit up the 1st Annual Athens Community Arts & Music Festival!
Presented by the Athens Municipal Arts Commission, the City of Athens, and students from Hocking College's Music Management program, this two-day event starts Friday, August 17 in downtown Athens.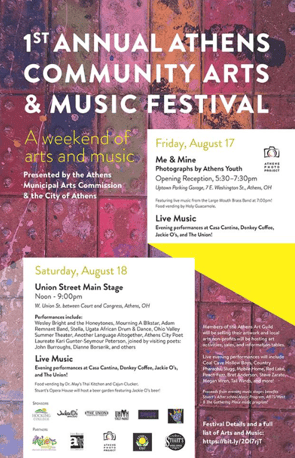 According to the event poster, members of the Athens Art Guild will be selling their artwork and local arts non-profits will be hosting art activities, sales, and information tables.
Live performances will be held throughout the event. Some of the performers include: The Coal Cave Hollow Boys, Country Pharaohs, Slugg, Mobile Home, Red Lake, Peach Fuzz, Bret Anderson, Steve Zarate, Megan Wren, Tail Winds, and more.
The night-time music performances will be held at separate venues across the city with all events benefiting the Stuart's Opera House After School program, ArtsWest education programs, and The Gathering Place.
What's even cooler? Hocking College's Music Management students, faculty, and alumni are helping coordinate the entire event, giving them real-life job experience in the industry.
Check out the full event schedule below.
Friday, August 17
5 p.m. - 7:30 p.m. — Athens Photographic Project presents an opening reception at the Athens parking garage for the Wheatpaste exhibition of art by Athens County youth. Event will include light refreshments and Holy Guacamole's food cart.
7 p.m. — Large Mouth Brass Band performs.
9 p.m. — Music will move indoors to three different stages at Casa Nueva Restaurant & Cantina, Donkey Coffee, and The Union featuring sets by The County Pharaohs, Acrylic Grooves, Slugg, Tailwinds, Red Lake, Caution Step, and more.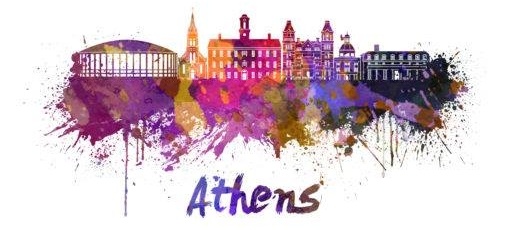 Saturday, August 18
On Union Street between Congress and Court Streets there will be the main festival with visual artists for the Athens Art Guild and Paper Circle of Nelsonville selling their artwork and arts non-profits offering information on their organizations and arts activities.
Dr. May's Thai Kitchen and Cajun Clucker will be on hand selling their food and Stuart's Opera House will be selling Jackie O's beer to raise funds for their After School Music Program.
Main Stage on Union St.
12 p.m. - 3 p.m. — A variety of local and visiting artist performances featuring OVST, Ugata West African drum and dance, Athens Poet Laureate Kari Gunter-Seymour Peterson introducing two visiting poets, and more.
3 p.m. — The main stage shifts its focus to music featuring headliners Wesley Bright and The Honeytones, along with Adam Remnant Band, Stella, Hellnaw, Mourning A Blkstar, and Mobile Home.
9 p.m. — The music moves indoors to three separate stages at The Union, Jackie O's, and Casa Nueva Restaurant & Cantina featuring sets by The Coal Cave Hollow Boys, Slag Pile, Bret Anderson, Weird Science, Slackluster, Peach Fuzz, Colleen Carrow, and lots more.