If you recently made the choice to pursue a college education then you deserve to be congratulated for taking this monumental first step towards finding your ideal career. Your choice to go to college has placed you in a position to experience all the advantages that being a college student has to offer.
One of the integral parts of "the college experience" is experiencing dorm life and all of the things that come with that; like bonding with your college roommates, and grabbing lunch at the dining hall.
But what if you're going to a community college?
If you made the decision to pursue your career at a two-year college, you may be disappointed that you had to give up that key part of the college experience.
So, Do Community Colleges With Dorms Actually Exist?
The answer is yes, there are community colleges with dorms out there, but they aren't very common. Hocking College is actually the only two-year college in Ohio to have college-owned residence halls.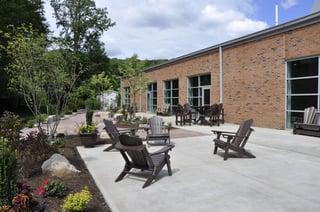 Students who take advantage of Hocking College's residence halls will soon find themselves part of a unique community of students with big dreams.
Living in Hocking's dorms will also give students access to a multitude of campus-based services and resources, all in one place to make sure their time at Hocking College will be as enriching as it will be memorable.
There are many ways that choosing to live in one of Hocking College's residence halls can be a positive experience for incoming college students:
You won't need a car to get to class
There is easy access to public transportation if students need to travel off-campus
Always close to campus, so attending events is convenient
Living on campus gives you the opportunity to meet new people and form close bonds with them
There is easy access to food at the campus dining hall
Harsh weather conditions are less of an issue, because students don't need to drive to classes in snowy or icy conditions
Living in a dorm will encourage students to become more independent without the worry of frequent grocery shopping or paying electric bills
---
---
Why Should I Take Advantage of A Community College With Dorms?
The answer is simple; dorms help give two-year colleges a 4-year feel without the price tag.
One of the biggest benefits of community college is that you get an accelerated learning experience at a fraction of the cost of a 4-year institution. So, not only do students get to earn a degree in the field they want, but they can do it in two years.
Most of the time, these benefits outweigh the desire to have the full college experience. But now, thanks to community colleges with dorms, students can have the best of both worlds.
FAQ About Campus Housing at Hocking College
We've addressed some questions incoming students and their parents might have concerning on-campus housing at Hocking College:
Question: How soon do I need to apply for housing at Hocking College?
Answer: Residence hall applications and their fees are processed in the order that they are received. Therefore, students are encouraged to apply for housing as soon as possible - or at the least seven months before the start of the school term.
Question: Can I request a roommate at Hocking College?
Answer: Yes. However, the person you are requesting to be your roommate must also do the same on their application. Also, both parties need to include each other's student ID number in their requests.
Question: What if my roommate and I don't get along?
Answer: If you and your new roommate aren't seeing eye-to-eye, you should check out the Hocking College handbook and read the section entitled "On-Campus Living." Here you'll find some helpful tips that can hopefully help you and your roommate resolve your differences. But if the situation doesn't improve don't hesitate in contacting someone from the residence life staff.
Question: What Dorm Supplies Do I Need?
Answer: Laundry supplies, cleaning supplies, noise-canceling headphones, earplugs, sleep mask, power strips/extension cords, shower shoes, first aid kit, a night light and a lock box. You can find a full checklist to download and print out here.
Question: What kind of security services does Hocking College offer their students?
Answer: Hocking College has a full-service police agency. This is located on-campus behind Light and Oakley Halls, and next to the Hocking Heights residence hall. The Hocking College campus safety team offers an escort program to students, faculty and staff that is open on a 24-hour a day basis. Also, in order to stay informed about emergency situations on-campus, students can subscribe to Nixie to receive instant text message alerts in the event of campus closings, etc.