In today's society, computer assisted coding (CAC) systems are changing the way the health information management industry utilizes medical coding. But what exactly is computer assisted coding and how does it work?
What is Computer Assisted Coding?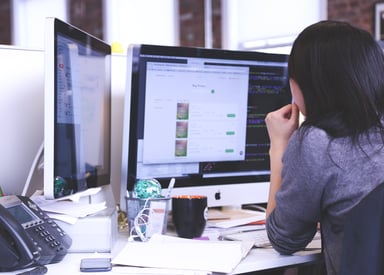 A computer assisted coding system is software that first analyzes medical documents and then produces appropriate medical codes for specific terms and phrases within the document. It also reads electronic, dictated or transcribed information, and then automatically generates codes that correspond with the information found within the document.
Thanks to this technology, healthcare organizations can now better document physician and outpatient-based services, and correspond with insurance companies more efficiently and effectively.
However, CAC systems are not designed to work autonomously. To some degree, they will still need the assistance of an experienced coder.
How Does CAC Work?
An artificial intelligence system extracts data from a text-based or handwritten-document, then converts this information into a set of medical codes.
What Are The Benefits Of Computer Assisted Coding?
Increases productivity. CAC systems increase productivity within a healthcare organization by allowing them to become less dependent on time-consuming manual coding methods.
Increases transparency. CAC systems can increase transparency by validating the thought process that went into assigning specific medical codes.
Improves coding accuracy & consistency. The system improves coding accuracy which decreases the rate of claim denials and a reduction in auditing discrepancies. It also improves consistency and makes sure guidelines are met and followed when discrepancies are present.
Improves compliance. This system helps improve compliance by providing healthcare professionals with a more dependable coding system that increases their chances of getting it right the first time.
Reduces costs.

CAC systems

help reduce coding costs in healthcare organizations.
Security of information. This system helps healthcare organizations make sure their patient's personal information remains secure and confidential.
Determines relevancy. The system can differentiate between terms within a medical document that are relevant to a physician's diagnosis and those that are not.
Reduces misinformation. It helps reduce the flow of misinformation by helping healthcare organizations and insurance companies communicate more competently.
Eliminates unnecessary paperwork. Since CAC systems are less inclined to produce errors, this lessens the chances of patients having to fill out unnecessary paper work or be inaccurately billed.
Traceability. This system provides file traceability should documents come up missing.
Saves time. The system gives healthcare organizations the capacity to produce industry compliant documents in a matter of seconds.
Anyone interested in finding out more about how modern technology can benefit the healthcare industry should investigate Hocking College's Healthcare Informatics program.