Reasons To Consider A Construction Management Program
Do you enjoy organizing, overseeing, and orchestrating detailed outdoor projects? Has the sight of seeing someone struggling with a doomed construction effort ever compelled you to ask, "Can I make a suggestion?"
If so, then an Associate of Technical Study in Construction Management: Carpentry Degree might provide your future with the foundation you've been looking for!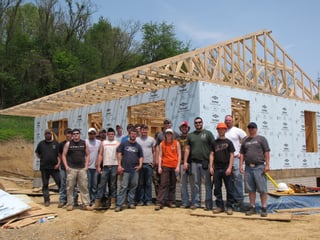 Since the dawn of The Stone Age, building things has been instinctual. The drive to create shelter from the elements -from the simplest of huts to the most detailed of sky scrapers- has driven people to build.
In addition, some of the many advantages of pursuing a career in the construction management/skilled craft work industry include:
Experienced construction managers/skilled craft work employees are always in high demand
The chance to form lasting personal relationships with coworkers and clients
The option to be self-employed
The option to choose your coworkers
The option to choose your work environment
The opportunity to gain skills that are transferable to other professions
The option to set your own work schedule and hours
The opportunity to travel
The opportunity to work both indoors and outdoors
An industry growth rate that will include the creation of an estimated 391.094 construction manager positions by 2024
An estimated median salary of $87,399
What Employers Look For In Construction Management: Carpentry Graduates
All Hocking College students interested in pursuing a Construction Management: Carpentry Degree should be aware that potential employers in this field primarily seek out employees with the following scholastic and work-related assets:
Scholastic Assets:
Computer skills: Microsoft Windows and Excel.
High school diploma or equivalent.
Proficiency in math.
Reading comprehension skills.
Vocational school-based background.
Work-Related Assets:
3-4 years construction-related work experience.
Ability to be bilingual.
Ability to delegate authority.
Ability to pass a criminal background check.
Ability to travel domestically and internationally.
Ability to pass a substance abuse screening.
Business skills.
Collaboration skills.
Change management abilities.
Customer-service skills.
Document management skills.
Expertise with hand and power tools.
Decision making skills.
Planning skills.
Interpersonal skills.
Negotiation skills
Risk management skills.
Time management skills.
US citizen or legal resident.