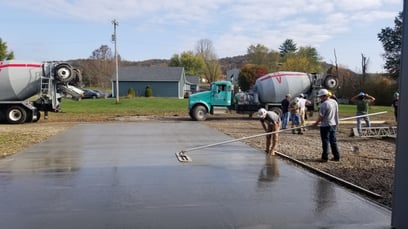 Students in Hocking College's Carpentry program recently got the opportunity to make improvements to the school's fire truck garage.
Under the direction of Ohio Carpenters Joint Apprenticeship & Training Committee (JATC) the project took six hours to complete.
According to instructor, Shaun Hecker, third semester concrete and rigging students formed up, tied the re-bar, poured and finished 50 cubic yards (or 1,350 square feet) of concrete.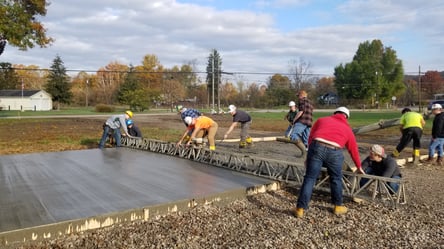 "The forms were shot to grade using s transit with a 1 inch slope for ever 10 linear feet to shed water," said Hecker, "The two slabs are 48' x 20'-6" and after two weeks will be able to hold the weight of a vehicle."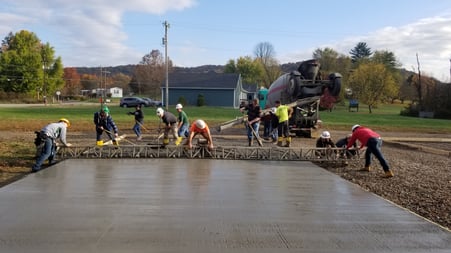 As for future projects, Hecker's students will help create a wheelchair accessible ramp and stairs at the Hocking College Police Department where they will learn forming footers, walls, slopes and how to make stairs.
More about the Construction Management Program
Hocking College's Construction Management program offers students the chance to graduate with an Associate of Technical Study in Construction Management-Carpentry degree in only two years.
Students get the opportunity to get specialized training in Occupational Safety & Health Administration (OSHA) enforced safety standards, local and federal government regulations, and how to create and execute an OSHA-approved safety program. They will also have the option to earn forklift and scissor lift certifications and an OSHA Construction Safety 30 Hour Card.
Since 2018, Hocking College has been in a partnership with the Ohio Carpenters Joint Apprenticeship and Training Trust Fund. This partnership incorporates Hocking College's existing carpentry program with the Apprenticeship Fund's apprentice training cycle.
Students who take advantage of this partnership between Hocking College and the Apprenticeship Fund will receive the following opportunities:
Access to on-the-job training including hours towards the apprenticeship

Professional journeymen as instructors

Job placement assistance

Pathways to joining a union

Networking opportunities
For more information on Hocking College's Construction Management program contact Program Manager Adam Fowler by email at fowlera18289@hocking.edu or phone at (740) 753-6357.