There is currently a documented shortage of working laboratory professionals in the U.S., and according to the latest bi-annual survey performed by the American Society for Clinical Pathology (ASCP), laboratory professions are seeing a range of vacancy rates from about 5% for anatomic pathology departments to roughly 9% for chemistry departments.
If you're thinking about becoming a medical lab technician (MLT), here are a few more reasons why you should consider entering this profession:
The Bureau of Labor Statistics projects that the employment of medical laboratory technicians and scientists will increase by 16% through the year 2024.
According to Jobs Rated Almanac, medical laboratory science has 25% job growth and good job security. Among health related professions, it currently ranks number three.
In 2015, the median salary for medical laboratory technicians was about $41,420 and $60,520 annually for medical laboratory scientists (based on geographic location).
According to the ASCP, clinical scientists accounted for 335,700 jobs in 2016. About half of these jobs were in hospitals; the remainder were in clinics, doctor's offices, blood banks, independent clinical, forensic or research laboratories, and with the government (such as Public Health Service).
Are There Certification Requirements?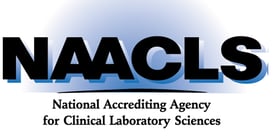 The ASCP Board of Certification is the standard for certification for medical laboratory professionals. Some states require additional licensure.
Most MLT students apply for certification through the American Society Clinical Pathologists (ASCP) Board of Certification. The most common route requires an associate degree or at least 60 semester hours (or 90 quarter hours) of academic credit from a college/university accredited by a recognized regional or national accreditation program. Hocking College is pending accreditation by the National Accreditation Agency for Clinical Laboratory Science (NAACLS).
How Can I Qualify for a MLT Program?
In order to participate in a medical laboratory science educational program, students must be able to comply with program-designated essential functions, or request reasonable accommodations to execute the following functions:
Sound intellect
Organizational skills
Problem solving
Good motor skills
Good hand-eye coordination
Dexterity
Strong set of ethics
Effective communication skills
Critical thinking skills
Possess visual acuity to perform macroscopic and microscopic analyses, or read procedures, graphs, etc.
Computer literate
Work independently
Manage time efficiently
Comprehend, analyze, and synthesize various materials
Hold sound psychological health and stability
What Training Will I Get at Hocking College?
Hocking College's MLT program will provide students with the skills they need to collect samples and perform tests to analyze blood and bodily fluids, and other substances. Students will also have the opportunity to participate in practicums at local hospital laboratories.
In only four semesters students can obtain their Associate of Applied Science in Laboratory Sciences from Hocking College. Hocking's MLT program has a selective admissions process and all students are required to complete the following:
Orientation session
Physical
Drug screen
Immunizations
Background check
Complete core curriculum with at least a 2.5 GPA
If you're interested in Hocking College's MLT program, contact the program manager, Kimberly Ephlin, at (740)753-6356 or by email at ephlink@hocking.edu.