NELSONVILLE, Ohio—On Thursday, April 8, eight Hocking College basketball players were awarded All-Ohio Community College Athletic Conference (OCCAC) post-season honors.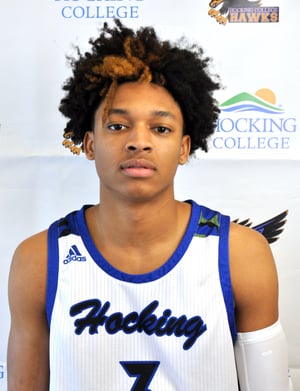 The men's team — which finished with a program-best record of 13-3 — received recognition for five student-athletes, led by Co-OCCAC Player of the Year, Ryan Archey Jr. Archey, a sophomore guard, averaged 22.3 points per game — good for fifth in the nation in D-II — with a single-game high of 39 points against Terra State Community College, which earned him NJCAA Player of the Week honors.
Archey was joined on the All-Conference Team by sophomore point guard Landon Sprigler, who averaged 15.1 points and 6.5 assists as the floor leader.
Sophomore forward Jeron Tinsley and freshman forward Tyree Robinson were both named to the OCCAC All-Defensive Team. Robinson was also named to the All-Freshman Team and was joined there by freshman guard Xavier Johnson who ranked 6th in the country (D-II) from 3-point range, making 54.8% from deep.
The Hawks women's team was represented by two players on the All-OCCAC Team. Sophomore forward Jasmine Manuel and sophomore point guard Jada Lazaro both earned the All-Conference honor. Manuel was the top rebounder in the OCCAC (20.0 rebounds per game) — including a single-game high of 33 rebounds, one of the top rebound games in NJCAA history — against Bryant & Stratton College and averaged 15.9 points per game.
Lazaro was also named OCCAC Defensive Player of the Year, and freshman guard India Clark was named to the All-Freshman Team.