If you are looking for a career change or some extra training, one place you can look to is a two-year college. Hocking College is a college that also offers two-year degrees in Ohio. One program that has gained real momentum is the Firefighter II Certification. This hands-on program gives students the tools they need in order to complete and pass the state-certified exam through the use of state-of-the-art technology and the tutelage of experienced instructors. Plus, those who successfully complete the program are not only employable but are also able to move on to the Fire and Emergency Services Associates Degree program.
State-of-the-Art Equipment
The best way to learn any new field is to simulate what it would be like to do the job. Through Hocking's Firefighter school, students work directly in an enclosed burn building that allows them to develop key decision-making skills in real-life emergencies. Those who go through the program will also learn how to operate a fire truck, including a 100-foot bucket truck.
Students in the EMT and Paramedic classes also have access to the above equipment in addition to a fully equipped EMS vehicle and a simulated emergency room.
Curriculum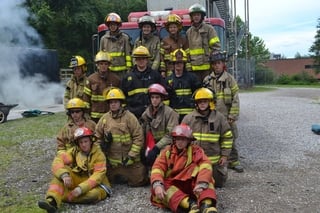 Over five semesters, the Fire and Emergency Services program offers courses such as Firefighter I & II and EMT & Paramedic certification courses. The fire classes are based on standards set by the National Fire Protection Association 1001, and graduates are fully qualified to move on to the Firefighter Certification Exam given by the Ohio Department of Public Safety after the completion of their studies.
The EMT curriculum follows standards provided by the U.S. Department of Transportation. To be certified, graduates must take the National Registry Exam at the end of the program.
Each program is also led by experienced teachers who will provide you with valuable insight into this exciting and rewarding career. This means that you not only learn from books, you will also receive first-hand knowledge from those who have been in the trenches.
Accelerated Pace
An added benefit of the Firefighter II Certification is that it can be completed in one semester. That means that you will be ready to take your certification in a matter of months. Not only that, but if you choose to move on to the Fire and EMT Associates program, you will only need three more semesters to complete the entire program.
Bachelor Degrees
For students looking to obtain a Bachelor's degree beyond Fire and Emergency Services Associate, Hocking College has many articulation agreements with other Ohio colleges and with some across the country. This means that an agreement has been set up to help make your transfer easy and worry free. Contact Hocking College for more information on how these agreements will work for you.
Job Outlook
Students who graduate from the Fire and Emergency Services program can look forward to jobs as fire fighter EMTs and Paramedics. This includes such areas as municipal fire departments, governmental and privately owned emergency services, industrial fire and forest services.
As you can see, there are many benefits to complete a Hocking Firefighter/EMS program. Not only can you finish in a short amount of time, but you can also advance your learning by obtaining an Associates or Bachelor's degree. Plus, realistic equipment paired with experienced teachers will give you the knowledge you need to pass the necessary certification exams. So, if you have been considering a career change that is both challenging and rewarding, then the Fire and Emergency Services program just might be the right fit for you.