Being the first person in your family to attend college is both exciting and daunting. You've likely been working hard for years on your academics to get here. Now that your college acceptance has arrived, how do you prepare for that crucial first semester?
While you may have the academics well in hand, other factors such as finances and cultural fit may prove to be stumbling blocks you'll have to overcome as a first generation college student.
Once you get to college, you'll find that many of your classmates already have an understanding of the ins and outs of being a student. They have family members who have attended college themselves and who can offer help and guidance. Since your parents aren't college grads, you may feel like you have to fend for yourself.
Thankfully, most colleges offer assistance and counselors to help you smooth over the rough spots and become a successful first generation college student. Take advantage of the following tips to help you prepare for this exciting stage of your life.
Resources for College
Start early to get your college financing in order. The first step is to fill out the FAFSA — the Free Application for Federal Student Aid — form to apply for federal loans, grants and work-study funds.
Most colleges, including Hocking College in Ohio, help students apply for and secure financial aid by assigning them to a personal financial aid representative. Visit the college's financial aid site to learn about the various forms of aid, such as grants and loans.
If you've chosen a two-year associate degree or certificate program, you only need to come up with two years of funding, which helps to lower the overall cost of your education.
Also, look into scholarships. Some schools and organizations have funds set aside for students who are the first in their family to go to university. If you need to, you can supplement this aid with savings and student employment.
Just remember that working while at school means you need to utilize effective time management to balance work and school. You can lessen the impact by getting a job on campus, which means less travel time and an employer who understands students' time constraints.
Help With Student Life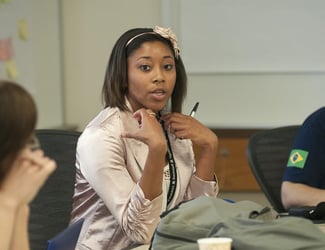 Once you've got financing arranged, start thinking about how you will cope with the sea of change that is college life.
No matter what background a student comes from, the transition to unfettered freedom and responsibility can be daunting.
This can be doubly so for first generation students who don't have the same cultural touch points.
Even though your parents didn't attend university, that doesn't mean they don't have valuable life lessons to share. It's especially important for first generation students to keep the channels of communication open with their families. You want to be able to turn to them for emotional support when you need it.
Colleges and universities are increasingly aware of the hurdles first generation students face, and have instituted specific programs to help them succeed.
Some schools offer mentoring, and most have resources such as academic and residential life advisers, tutoring centers, student-life offices and mental health professionals to help you if the going gets tough.
You should be justifiably proud of your academic achievements so far. Now's the time to prepare for all the other aspects of college life that could trip you up on your journey to your degree. Your family and your school want you to succeed; take advantage of all the help they offer.